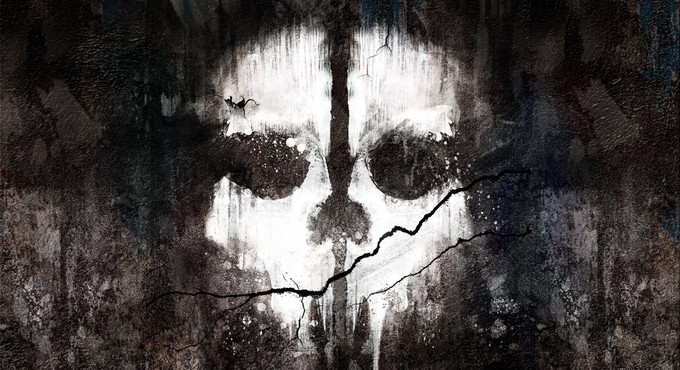 The ONSLAUGHT DLC pack for CALL OF DUTY: GHOSTS will arrive for PlayStation and PC platforms on February 27, roughly one month after its XBOX 360 and XBOX ONE debut.
The new levels included in the pack are fun and offering interesting dynamics. I'm a particular fan of the 'Bay View' level which features an aquarium setting in a tourist district, and a rideable trolly trundling through the level. When people are hell-bent to destroy you? There are a surprising number of ways that trolly can be put to interesting and inconvenient use (I saw someone mounting automated sentry guns on it, so it blasted the crap out of people as it rolled merrily along, for example).
The 'Fog' level offers an ability to become HALLOWEEN's Michael Meyers as a temporary boost, complete with John Carpenter's iconic theme. Look for other horror movie call outs in that level - including EVIL DEAD (check out the wrecked bridge and car to the far side of the map), and a cave which ever-so-briefly features RAIDERS OF THE LOST ARK spirits swirling through. Can't see to avoid getting killed over and over again in that level, but just exploring the environment and dodging Michael is a hoot in itself.
I'm looking forward to seeing how these new maps look on the PS4. On the whole, I found GHOSTS and its original load out of multiplayer maps to feel notably underpowered (from a graphical perspective) on XBOX ONE when lined up against the far more robust presentation of the game via PS4 - the recent ONSLAUGHT release for XB1 did little to dissuade me of this complaint. I'm betting I'll have a greater appreciation for ONSLAUGHT's details and nuance when it hits PS4 in a few weeks.
Here's a press release telling you more…
—————-
Call of Duty®: Ghosts Onslaught DLC Pack Available for PlayStation and Windows PC Players Thursday, February 27, 2014.
Fans Can Purchase the Onslaught DLC Pack Individually, or as Part of the Call of Duty: Ghosts DLC Season Pass Discounted* Bundle
Call of Duty: Ghosts players on PlayStation 4, PlayStation 3 and Windows PC will have access to the first DLC Pack - Onslaught - on February 27, 2014. Onslaught delivers four unique and classically designed Call of Duty multiplayer maps, the all-new "Maverick" dual-purpose Assault Rifle/Sniper Rifle, and the first installment in Extinction's four-part episodic narrative, "Episode 1: Nightfall."
New multiplayer maps in Onslaught include:
•Fog: A chilling homage to classic horror films, set alongside the banks of a murky lake, players skilled enough to pick up the map's unique Field Order can become the embodiment of evil and don the mask of Michael Myers, one of cinema's most iconic horror characters, as the entire soundscape changes to the eerily familiar Halloween Theme music.
•BayView: A coastal Californian boardwalk that offers players fast-paced run-and-gun gameplay amid a seaside town. Clever players will be able to climb onto the map's moving trolley to engage enemies, as well as call in devastating artillery strikes from the Naval Destroyer anchored offshore.
•Containment: This map drops players into a raging battle amidst a war-torn Mexican village, where the action centers on the crippled remains of a small bridge holding a hi-jacked truck leaking radioactive material.
•Ignition: Onslaught's fourth map is a completely reimagined version of "Scrapyard" - the fan-favorite multiplayer map from Call of Duty®: Modern Warfare® 2, placing players into a deserted space launch facility with frenetic action amongst abandoned warehouses, flame trenches, a massive transport crawler, and dynamic map elements that can take players out if they're not paying close attention.
Onslaught arms players with the Maverick, a deadly new, dual-purpose addition to their multiplayer arsenal. Outfitted with a lightweight wood stock and a digital screen display, players can choose to use the Maverick as either an Assault Rifle or Sniper Rifle, depending on their tactical needs.
Anchoring Onslaught is "Episode 1: Nightfall," the first installment in Extinction's new, four-part episodic narrative. As the initial foray into this single, connected story that will be told across each DLC Pack launch throughout the year, "Episode 1: Nightfall" takes fans to a remote research facility hidden deep within the Alaskan wilderness, where a small recon team must infiltrate the facility to find out what happened to the mysterious Nightfall Program. This expanded Extinction storyline introduces new characters, plus two all-new alien species, and debuts an exclusive Venom-X weapon that pulverizes the Cryptids, as players delve deeper into the story of what happened following mankind's first contact with the Cryptids in Colorado.
Fans can purchase Onslaught as either a standalone DLC Pack for a suggested retail price of $14.99, or purchase the Call of Duty: Ghosts DLC Season Pass. Season Pass holders not only get all four epic DLC Packs** for the discounted suggested retail price of $49.99*, but they also get instant access to the downloadable multiplayer map, "Free Fall," as well as the Team Leader Digital Pack, which comes with a unique multiplayer character head, weapon camo, reticle, player patch, player card and player background.
Call of Duty: Ghosts game sold separately and is required to play this Map Pack.
—————-
—————-
Glen Oliver
"Merrick"
- e-mail
- Twitter
- Google +