Papa Vinyard here, now here's a little somethin' for ya...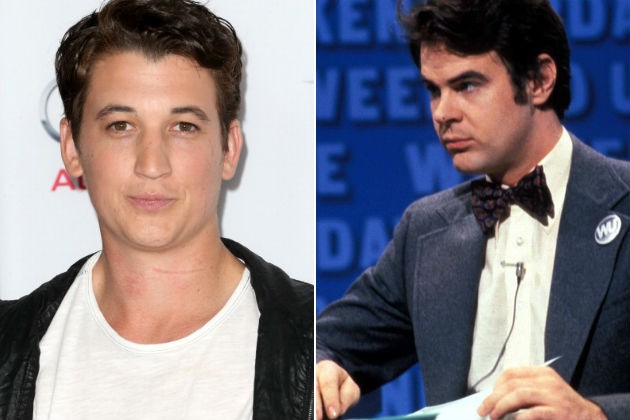 Above photo courtesy of ScreenCrush.com
Emile Hirsch's John Belushi biopic may have found its Dan Aykroyd. According to THR, Hirsch himself announced the news that THE SPECTACULAR NOW's Miles Teller would be taking the coveted part last night at a Sundance party in Utah. His (reported) exact words were:
"A shout out to Miles Teller! We're going to be working together soon. He's playing Dan Aykroyd in the Belushi movie."
It seems that his announcement may have been premature, and that Teller has merely been offered the part, but it certainly implies that talks are fairly far along, and that Hirsch, himself, wants him to join the production. This would be yet another big role for the up-and-coming actor, following acting opposite Zac Efron and Michael B. Jordan in THAT AWKWARD MOMENT, a supporting role in Neil Burger's DIVERGENT, and possibly playing Reed Richards in the upcoming FANTASTIC FOUR reboot.
As you can see in the THAT AWKWARD MOMENT trailer, Teller has the fast-talking thing down, a must if he aims to channel SNL-era Aykroyd. The question is whether he (and Hirsch) can accurately emulate one of the trailblazing "Not Ready For Prime Time Players" that launched SNL out of the gate and into pop culture immortality. Even if he doesn't really look like Aykroyd did in the '70s, he seems more of a natural fit for the role than Hirsch does, and his talent and rising fame all but ensure that this film will be more of a curiosity to fans than the ill-fated 1989 WIRED was.
What you guys think? Is Teller as Aykroyd a good fit, or is it out of the question that he can play proper homage to one of SNL's (and '80s cinema's) brightest stars?
-Vincent Zahedi
"Papa Vinyard"
vincentzahedi@gmail.com
Follow Me On Twitter