7:57 AM CST USA - THURSDAY 2 JANUARY 2014
Here's a look at the second epside.
==========================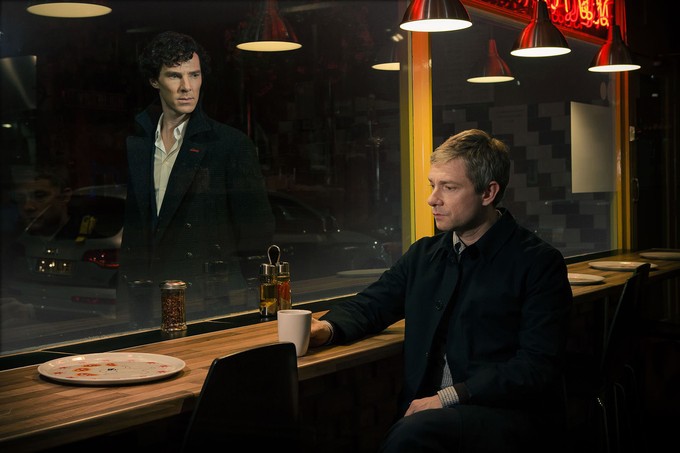 Glen here…
…opening a 'Lockback' dedicated to the return of the generally magnificent SHERLOCK.
Season/Series 3 premieres tonight on BBC One and Jan 19 on PBS (continuing at weekly increments on both outlets for three weeks). Here's the introductory mini-sode to get you started...
When last we saw our intense, socially maladjusted super-sleuth, he was pretty much dead to the world. How he faked his death and why? appear to have become the elephants in the room for this first installment of S3, and I'm guessing we'll examine (to some degree, at least) the impact of his actions on those around him.
As in the past, Lockbacks will be conducted in largely the same way as AICN's ongoing Docbacks. The primary, simple, golden guideline to follow?
Feel free to converse, agree, disagree, and question as much as you want - but the freedom to do so is NOT a license to be rude, crass, disrespectful, or uncivilized in any way. Not remaining courteous and civil, as well as TROLLING or undertaking sensational efforts to ignite controversy, will result in banning. Lack of courtesy may receive one (1) warning before your banning is instigated. Obvious Trolling or Spamming will result in summary banning with no warning.
In other words, know going in that…like our Docbacks…Lockbacks are NOT the unfettered Wild West you'll find on other AICN Talkbacks. Lockbacks and Docbacks are warmer, more inviting and more social places…we truly hope you'll join us.
Previously, a majority of Locback participation seems to rise from BBC One's initial transmit - although some Lockbackers clearly won't be able to partake in the episodes until their PBS issuance. As such, this Lockback will be reposted when each installments hits PBS.
PLEASE BE WARY OF SPOILERS after the initial UK transmit. My policy in such matters is that once a SHERLOCK has transmitted in UK, these Lockbacks become a SPOILER ZONE…and the game is afoot…
—————-
Glen Oliver
"Merrick"
- e-mail
- Twitter
- Google +