Glen here…
…with a quick round-up of pertinent WHOness from this week, and a nice write-up of the The Assassination Games Big Finish Audio from Docbacker Hornorsilk.
PAUL McGANN DISCUSSES HIS RETURN TO DOCTOR WHO FOR NIGHT OF THE DOCTOR
FIVE YEAR OLD LINDALEE (FROM BeyondTheMarquee) WENT TO LONDON 's DOCTOR WHO 50th CELEBRATION…
"...THE DOCTOR, MY BOYFRIEND..."
EXTENDED BBC HOLIDAY PROMO OFFERS FURTHER TIME OF THE DOCTOR GLIMPSES
THE BBCs CONFIRM TIME OF THE DOCTOR TRANSMIT TIMES, ISSUE LOVELY PROMO POSTERS
BBC One and BBC America have confirmed the transit details of Time of the Doctor - this year's Christmas Special which will see the exit of Matt Smith from DOCTOR WHO and the introduction of his successor, the great Peter Capaldi.
TotD will broadcast at 7:30 PM UK time on December 25, not surprisingly placing this 'Christmas Special' square on Christmas Day, a la the Doctor's previous Yuletide outings. BBC America will follow shortly thereafter with a 9pm ET/8CT US transmit.
Promotional art for the special, again adhering to the 'movie poster art' motif which has characterized Season/Series 7 to date. Here are a few variations - CLICK TO EMBIGGEN.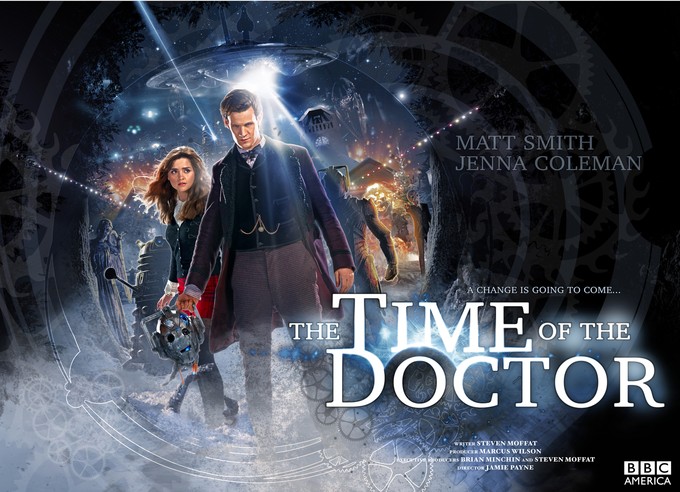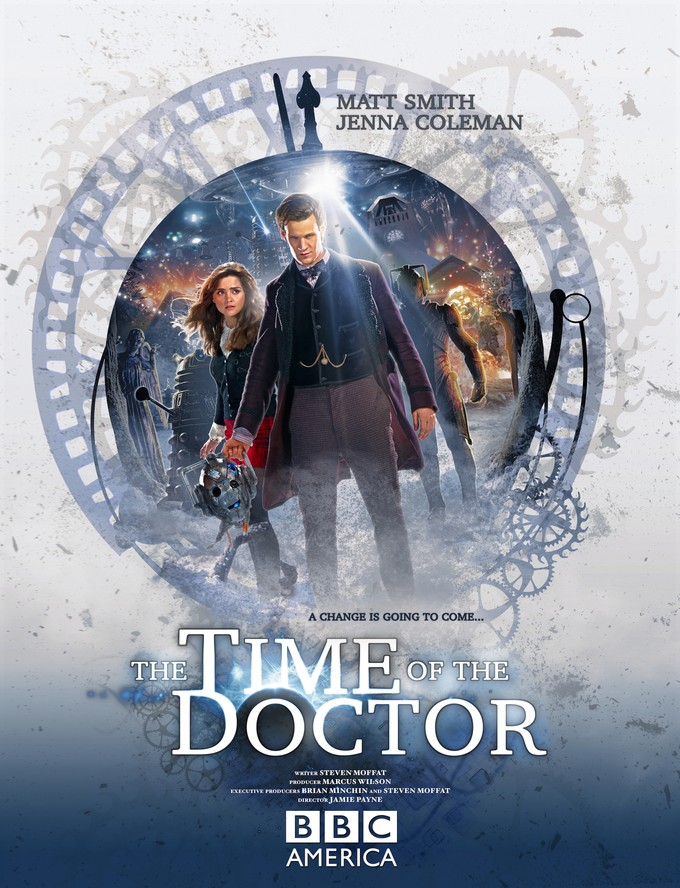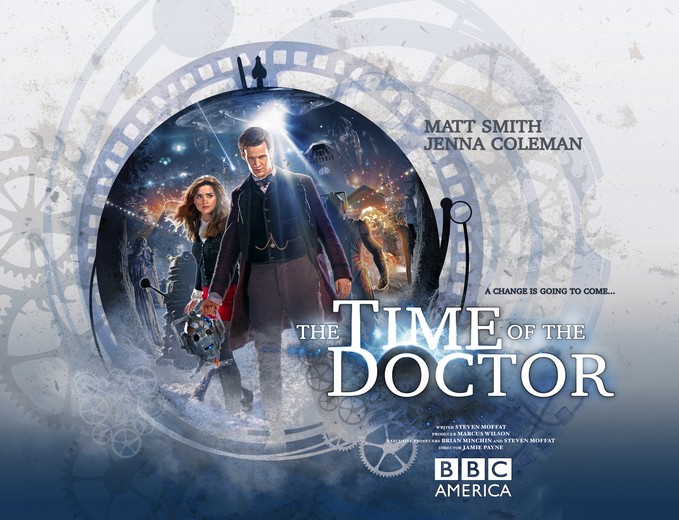 A few promotional stills are now making the rounds as well. These are EMBIGGENABLE here as well...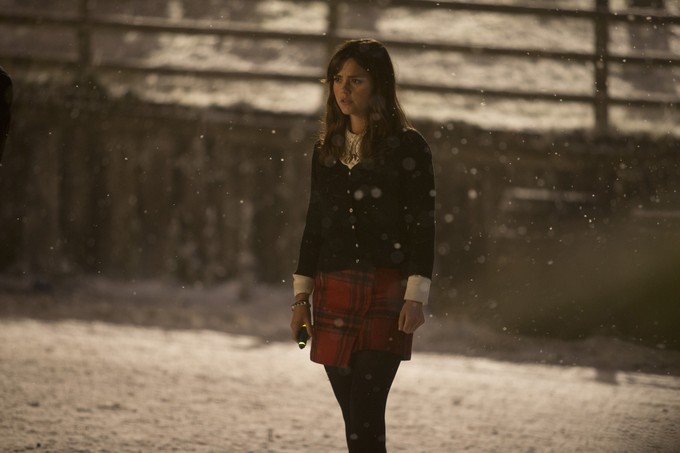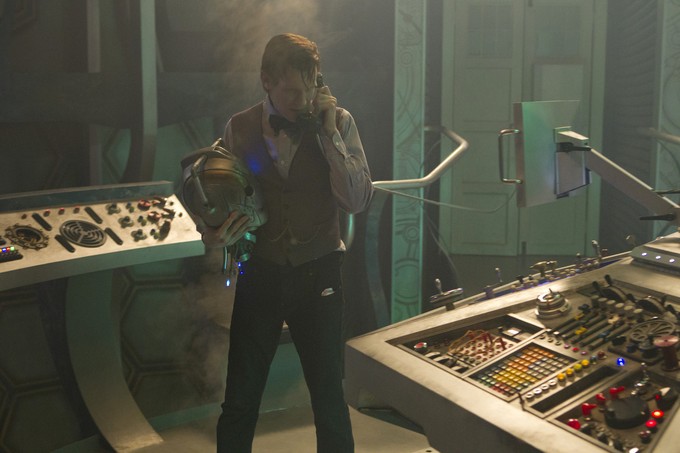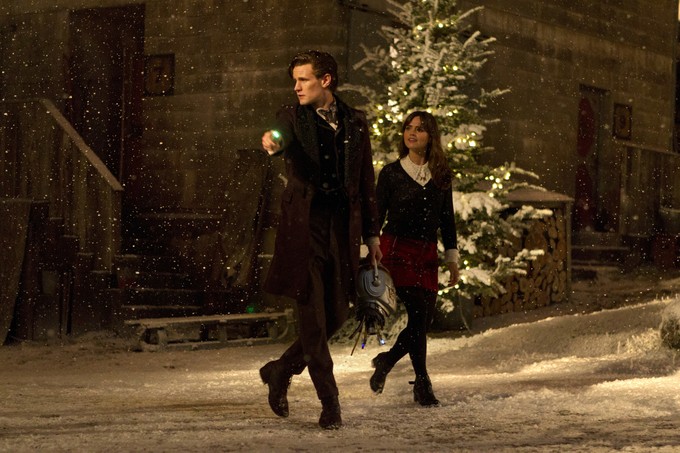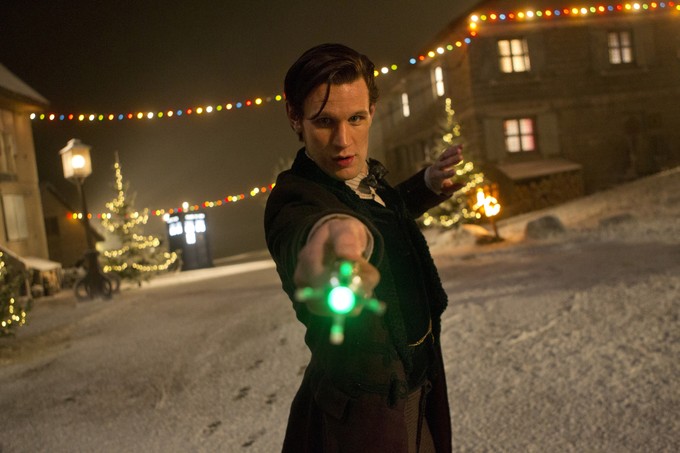 As with previous years, a Docback will be up and running for the Christmas Special - so stay tuned!
HORNORSILK REVIEWS THE ASSASSINATION GAMES BIG FINISH AUDIO
=========================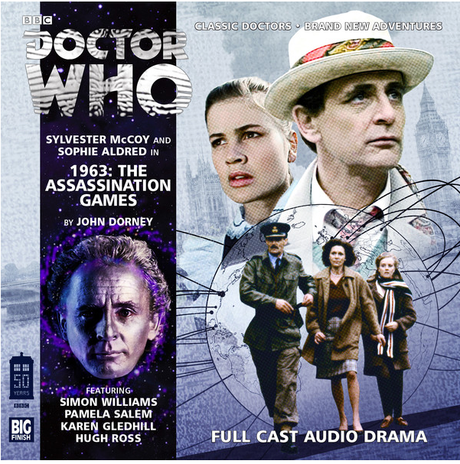 Big Finish 178 – 1963: The Assassination Games
By: John Dorney

This is the last of the "1963" trilogy, and in my estimation, it is the least of the three. This is not due to the plot, which I think was interesting, but rather, the feel that several things were off in the audio adventure. Was it the direction? I am sure that was a part of it, but I think the main problem I had is that the "Counter-Measures" team does not work well for me.
"Counter-Measures" is the teamed centered around Group Captain Gilmore after the events of Remembrance of the Daleks. There is an audio box set which I presume explains the full formation of this group. I have not listened to it, so I cannot comment. However, there is a sense that this team is being made as a kind of UNIT before UNIT, which I feel hurts the overall place of UNIT in the history of Doctor Who. But it could work, and if the end objective is to show how "Counter-Measures" turns into UNIT (I do not know if it does), then perhaps it is a worthwhile "story" to tell on its own. However, with no insult intended towards Simon Williams, who played Gilmore, he just does not feel the same here as he did in Remembrance. This is more than just the difference in age, but something of the mannerism feels off. Again, it could be an issue with the direction.
The plot of the adventure is simple: the British Government finds many of its officials under attack for their work in the defense industry. The ones suspected of the attack are a radical anti-nuclear arms group. Gilmore and his crew have been sent to investigate the assassinations, and find, to their surprise, the Doctor and Ace is also there. And, boy does the Doctor show up in this one in a unique (and enjoyable) way – so unique, I won't spoil it in this review. But I would love to see a sequel to those audio based upon what the Doctor does to get involved (and it would not have to be serious; it could be a comic story along the likes of Lynn and Jay, although, if done right, they could even have a slight role for John Simm in it as a surprise).
Obviously, there is a dark secret behind the events of this story. There are elements of James Bond spy thriller and early Heinlein Puppet Masters going on here, and they work fairly well together.
Again, I have to say, the ideas are sound. The acting is sound. And yet something feels off the whole story. It is not just the limited amount the Doctor is in it at the beginning. It is, I think, the way it feels as if this story belonged in a Counter-Measures box set as a highlight to the set than it did within the normal Doctor Who line. It felt that much different at times, and certainly, felt as if Counter-Measures was more important than the Doctor at times.
There is an element of the Moff's love affair with "timey-wimey" storytelling in this one. The reason why the Doctor got involved with the story at all is that he read from Gilmore's memoirs, and found out he saved Gilmore's life but everything else with the event was kept vague. When Gilmore finds this out, he tells the Doctor he must then write the memoirs differently, so they both will know what was going on and fix the problem easily. The Doctor tells them he must not, for the paradox it will create, and yet then the Doctor also warns him not to think he is safe because the Doctor read the memoir in the future: time could still be changed.
Despite what I think of the plot of the story itself, the feel being off, makes me give this one a 7/10. It's enjoyable, though at times a bit slow.
- HornOrSilk
=========================
————————
Glen Oliver
"Merrick"
- e-mail
- Twitter
- Google +
[[[[[ A LIST OF PREVIOUS DOCBACKS CAN BE FOUND HERE!! ]]]]]
DOCBACK CODE OF CONDUCT
1) a Docback should be about completely open and free discourse regarding all things WHO with, obviously, some variation on subject matter from time to time - the real world intervenes, discussions of other shows are inevitable, etc.)...
2) matters of SPOILAGE should be handled with thoughtful consideration and sensitivity. Posts containing SPOILERS should clearly state that a SPOILER exists in its topic/headline and should never state the spoiler itself . "** SPOILER ** Regarding Clara" is OK, for example. "** SPOILER about that Motorcycle" is fine. **SPOILER** Why did everyone die?" Is NOT good.
And, above all...
3) converse, agree, disagree, and question as much as you want - but the freedom to do so is NOT a license to be rude, crass, disrespectful, or uncivilized in any way. Not remaining courteous and civil, as well as TROLLING or undertaking sensational efforts to ignite controversy, will result in banning. Lack of courtesy may receive one (1) warning before a ban is instigated. Obvious Trolling or Spamming will result in summary banning with no warning. One word posts intended to bump-up any Docback's figures on AICN's "Top Talkbacks" sidebar will be considered actionable Spam - they not only complicate efforts to access Docback from mobile devices, but impede readers' abilities to follow or engage in flowing conversation.
In short, it's easy. Be excellent to each other. Now party on...