WARNING!! DAY OF THE DOCTOR SPOILER ZONE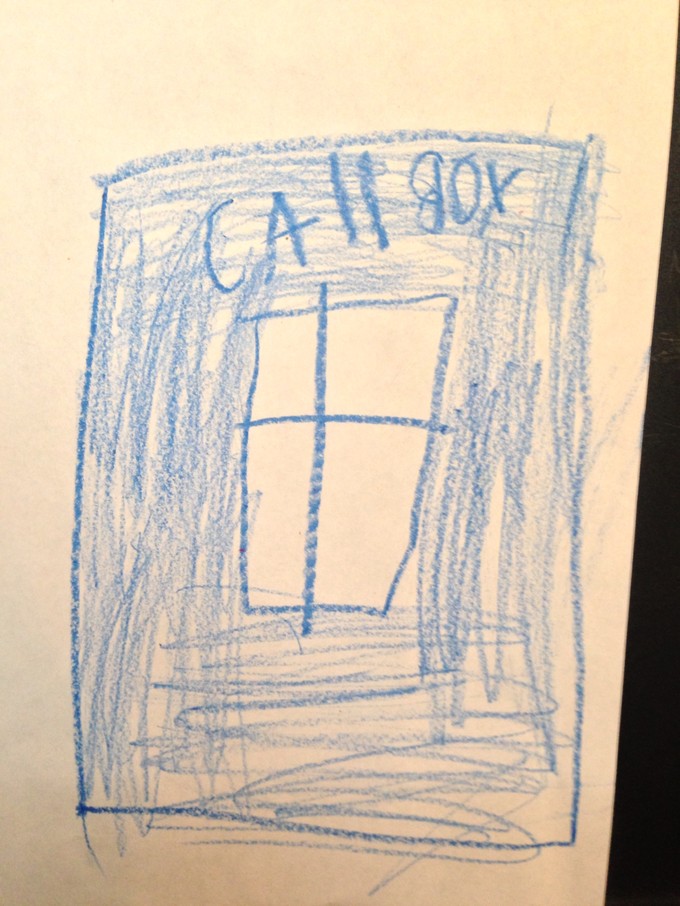 [by my (then) five year old son Teddy]
Glen here...
So, here we are. The 50th Anniversary of DOCTOR WHO. Tomorrow - November 23.
Compared to many people reading these words and participating in this forum, I'm a relative newcomer to DOCTOR WHO. I feel I've learned a great deal about the show and its fandom in comparatively little time - and grown to appreciate the spectacular wonder and uniqueness of both without reservation.
But there's one element I've been aware of since long before I became a full-on WHOvian - since I first viewed a mere smattering of Tom Baker-era back in the 80s and decided to research more about it via a variety of specialty publications and magazines: the universe of DOCTOR WHO - not just the on-screen universe but the politics and mechanisms driving the show - are as unique and incomparable as the show itself. The network politics driving what we see, don't see, and when and why, are unlike any other I've encountered in nearly two decades of online journalism (if you can call what I do 'journalism'). The same can be said for the ancillary marketing and promotion of items. DOCTOR WHO has always marched to the beat of a different drummer, and will, in all probability, continue to do so for some time. The business of WHO is almost as wiley and unpredictable as our favorite Timelord.
Some of which is evidenced by: a complete lack of pre-screening availability for both of this weekend's 50th Anniversary celebratory productions: the AN ADVENTURE IN SPACE AND TIME docudrama (which transmitted yesterday on BBC Two and is now available available for streaming via the network's website - it transmits tonight on BBC America) and the much-anticipated The Day of the Doctor 50th Anniversary megasode, set for global simulcast tomorrow (details HERE).
But just because The Powers That Be have opted not to provide official screeners of ADVENTURE doesn't mean I haven't seen it. More on this shortly. But first…
DON'T FORGET THE FIVE(ISH) DOCTORS REBOOT TOMORROW!
A thirty minute special described thusly by its page on BBC's site:
A star studded special written and directed by Peter Davison. With the 50th anniversary of Doctor Who about to film, the 'Classic' Doctors are keen to be involved. But do they manage it?
Sounds kinda brilliant. Presumably, this is why 5th Doctor Davison and 7th Doctor Sylvester McCoy were recently seen picketing BBC?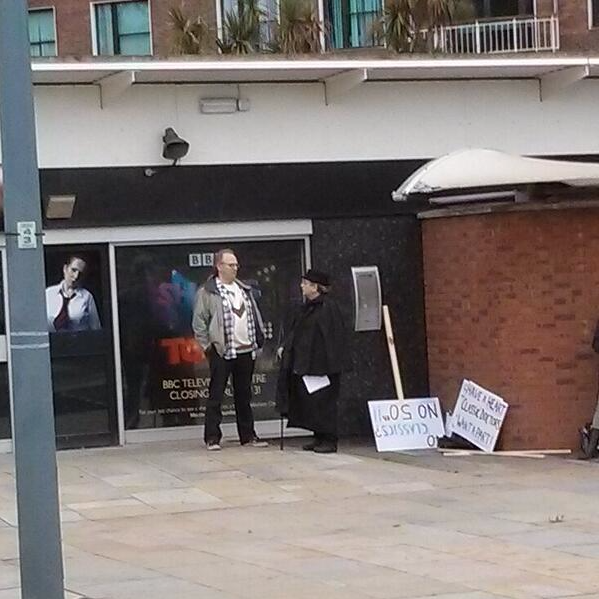 AN ADVENTUERE IN SPACE AND TIME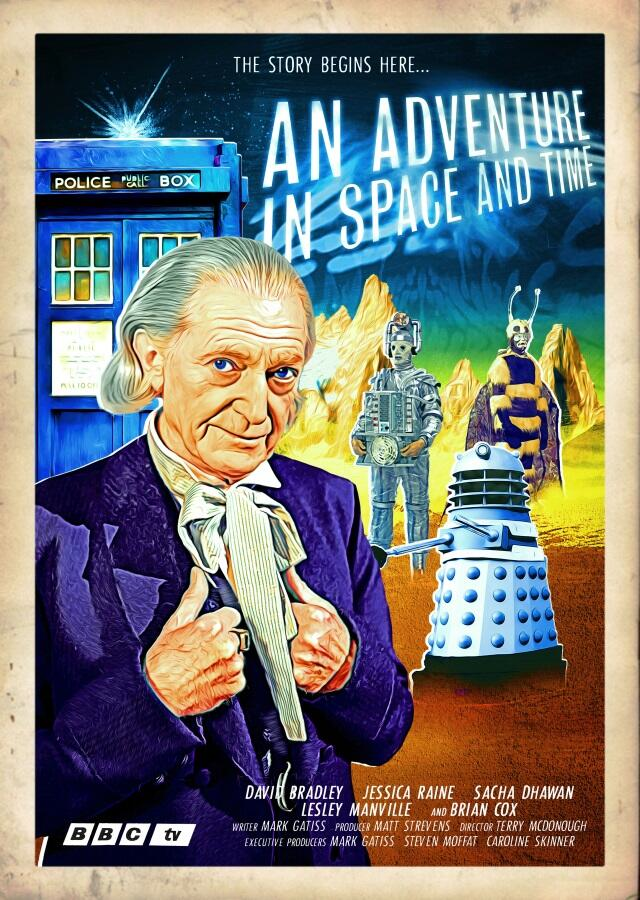 In many regards, I've been looking forward to AISAT as much as…if not more than…The Day of the Doctor. If you're not familiar with ADVENTURE IN SPACE AND TIME, it's a docudrama chronicling the formative era of DOCTOR WHO back in the 60s - involving detailed re-creations of 'classic' WHO sets and its costumes and creatures.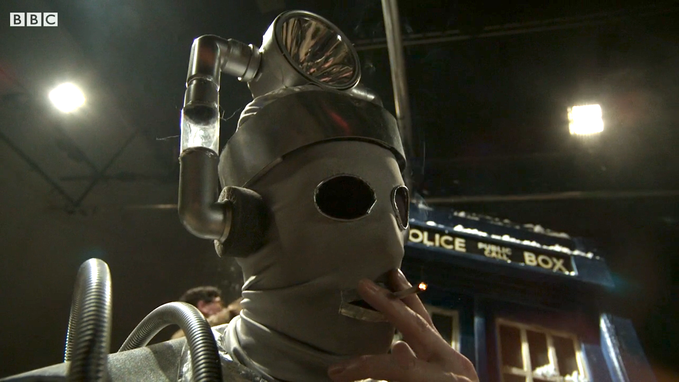 Scripted by longtime WHO writer/associate Mark Gatiss (who Exec produced alongside Steven Moffat and Caroline Skinner), AISAT will go a long way towards helping the uninitiated appreciate the show's unlikely journey to television and into history - and its slavish recreations of the show's period costumes and environs could well prompt a fan outcry for 'retro WHO' adventures using these contsructs, actors, and strategically modernized 'old fashioned' effects.
One could probably finger a number of shortcomings within AISAT (it's almost too breezy and cursory at times, and matters it decides to focus on versus matters it opts to barrel through may occasionally confound), but what the production lacks in grace it more than makes up for via expert pacing and the tremendous, profoundly affectionate heart driving the whole affair.
"What is this? What are we going to do with this? Stone Age men going 'Ugh'. It's crazy. Cavemen and Doctors and disappearing bloody Police Boxes…

- Waris Hussein, director of DOCTOR WHO's first story, An Unearthly Child - AN ADVENTURE IN SPACE AND TIME
This is a love letter to the birth of WHO, clearly made by people who love DOCTOR WHO - and principally intended for those in love with DOCTOR WHO. Despite this, it quite admirably and skillfully remains imminently accessible and informative to passers by. So much so that, at times, ADVENTURE IN SPACE AND TIME feels like a piece of primer media one might encounter in a high-end museum. In fact, I wouldn't be surprised to see it deployed as such at some point down the line.
This said, AISAT does finally and ultimately go for the gut - rather wonderfully so by the time all is said and done. Its well-considered presentation of actor William Hartnell's slow decline (played here with relish and truth by David Bradley) is skillful and sweet.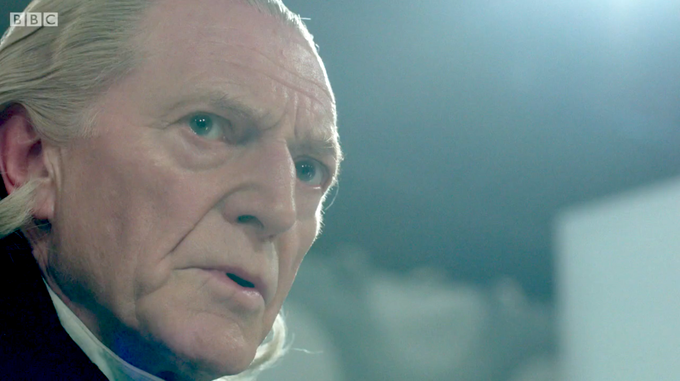 An initially abstract framing device illustrating Hartnel's removal/departure from the show pays off potently (a policeman telling Hartnell "you'd better move on now - you're in the way" stings deeply with multiple meanings). A brilliantly simple and heartstopping visualization of the Hartnell/early WHO legacy may be long-remembered. And, a generally impactful final quarter brings home the profoundly human contributions and sacrifices which forged a show that barely made it out of the gate - but would endure through the ages.
"I don't want any of this muck thanks very much I'll have a drink…"

- 1st Doctor William Hartnell (David Bradley) AN ADVENTURE IN SPACE AND TIME
An imperfect but largely entertaining and sometimes powerful undertaking, the bulk of AN ADVENTURE IN SPACE AND TIME shines far more brightly than its blemishes. It's a perfect introduction to (and commemoration of) DOCTOR WHO, and should serve as a lovely companion piece to The Day of the Doctor this Saturday.
Will any kind of early review of that one be possible? We've been though such uncertainty before…with pervious episodes…with mixed results. However, all evidence…and The Powers That Be's utter silence on the matter…would suggest a resounding 'no' this time around. But…it's OK. Often the withholding of screeners is clumsy, annoying, and unnecessary. But this time? It's OK. Because this time…the stakes are higher and matters are…different. For one brief, shining moment tomorrow, WHOvians across the globe will be watching simultaneously and in union. And that's more important than any screener, or any entertainment industry politics. People across an entire world…gathered together to celebrate one thing they have in common…one thing for which they share love. Think of what that means beyond face value. It's hard to imagine 1st Doctor William Hartnell, or original producer Verity Lambert, or original director Waris Hussein, not being floored by such a profound moment or meaningful realization. Everybody coming together to behold the legacy of their creation may, perhaps, be more significant than the Anniversary itself. Unity, brotherhood, and celebration on a global scale. I can think of no greater legacy for a television show, even one which has already impacted culture in as many ways as DOCTOR WHO.
Happy Anniversary, Doctor. My friend. Our friend. Here's to your future. Here's to all our futures...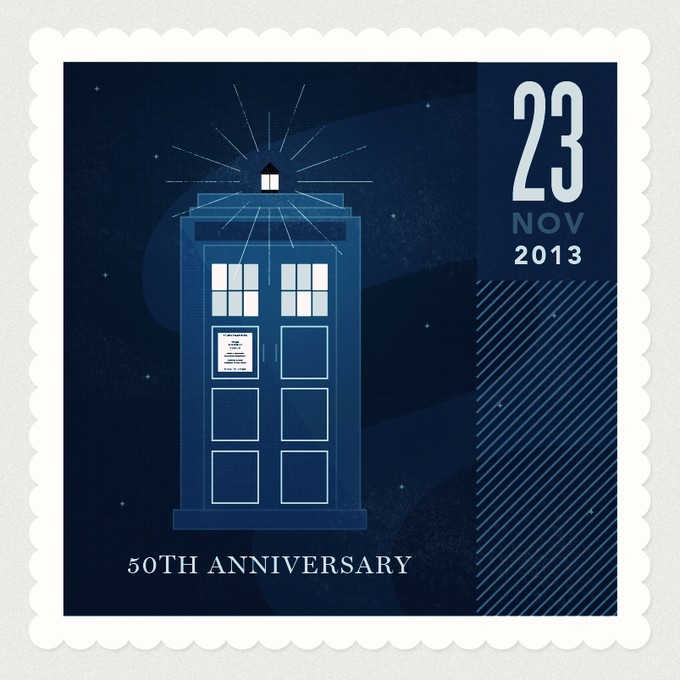 [via ghergich.com]
A LOVELY FAN-MADE 50th ANNIVERSARY ANIMATION
TOM BAKER. COLIN BAKER, PETER DAVISON, SYLVESTER McCOY, AND MATT SMITH TOGETHER AT DOCTOR WHO CELEBRATION
DING
THE MOFF ON DOCTOR WHO'S ANNIVERSARY
And...
MATT SMITH ON DOCTOR WHO'S ANNIVERSARY
IAN McKELLEN ON MATT SMITH AND DOCTOR WHO
SHATNER, OLMOS, FILLION, AND MORE ON DOCTOR WHO'S 50th ANNIVERSARY
CURRENT/RECENT DOCTOR WHO CAST ON DOCTOR WHO'S 50th ANNIVERSARY
VERY COOL 11 DOCTOR COSTUME INFORGRAPHIC FROM HALLOWEENCOSTUMES.COM (CLICK TO EMBIGGEN)

RON BURGUNDY ON DOCTOR WHO
PETER DAVISON'S THE FIVE9ISH) DOCTORS REBOOT NOW ONLINE VIA BBC
————————
Glen Oliver
"Merrick"
- e-mail
- Twitter
- Google +
[[[[[ A LIST OF PREVIOUS DOCBACKS CAN BE FOUND HERE!! ]]]]]
DOCBACK CODE OF CONDUCT
1) a Docback should be about completely open and free discourse regarding all things WHO with, obviously, some variation on subject matter from time to time - the real world intervenes, discussions of other shows are inevitable, etc.)...
2) matters of SPOILAGE should be handled with thoughtful consideration and sensitivity. Posts containing SPOILERS should clearly state that a SPOILER exists in its topic/headline and should never state the spoiler itself . "** SPOILER ** Regarding Clara" is OK, for example. "** SPOILER about that Motorcycle" is fine. **SPOILER** Why did everyone die?" Is NOT good.
And, above all...
3) converse, agree, disagree, and question as much as you want - but the freedom to do so is NOT a license to be rude, crass, disrespectful, or uncivilized in any way. Not remaining courteous and civil, as well as TROLLING or undertaking sensational efforts to ignite controversy, will result in banning. Lack of courtesy may receive one (1) warning before a ban is instigated. Obvious Trolling or Spamming will result in summary banning with no warning. One word posts intended to bump-up any Docback's figures on AICN's "Top Talkbacks" sidebar will be considered actionable Spam - they not only complicate efforts to access Docback from mobile devices, but impede readers' abilities to follow or engage in flowing conversation.
In short, it's easy. Be excellent to each other. Now party on...