Papa Vinyard here, now here's a little somethin' for ya...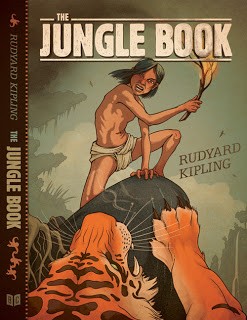 THE MAGIC KINGDOM didn't happen, but it looks like Jon Favreau is ready to tackle another property for Disney. Deadline has the story that Favs' next project (after his indie effort, CHEF) will be a JUNGLE BOOK movie for the House of Mouse. Slight cause for concern: the current draft is being written by STREET FIGHTER: THE LEGEND OF CHUN-LI scribe Justin Marks. Hopefully, the failure of that movie was more due to behind-the-scenes tinkering than Marks' efforts.
Favreau gave Deadline this quote:
"I can't say that much, but there is an interesting take that could be very cool, and the hope is to relaunch a family brand with certain mythic elements. It is my first real family film since ELF, and there are action elements and visual effects that I feel like my experience on the IRON MAN films are going to be useful."
Um, Jon, I'm pretty sure ZATHURA was a family film. Jus' sayin'.
No word as to what this "interesting take" involves, but hopefully it isn't any sort of "modern update" on Rudyard Kipling's classic stories of Mowgli, the boy raised by animals. Given that the relatively recent Stephen Sommers movie from '94 covered the same territory without the more fanciful elements (specifically talking animals), I'd guess that Favs is going to bring that stuff back into the fold (which would make it truer to Kipling's original work).
ELF and ZATHURA are both smarter-than-average "kids' movies", and Kipling's source material (and the Disney-fied iconography that accompanies it in pop culture) is rich with cool characters and scenes for Favreau to play around with. I'm excited to see his depictions of Bagheera, Shere Khan, Kaa, and, of course, Baloo; remember how funny and adorable those claymation characters were in ELF?
At the very least, this should do better with the kiddies than THE SECOND JUNGLE BOOK: MOWGLI & BALOO (you ever see that? Bored me to tears as a child).
-Vincent Zahedi
"Papa Vinyard"
vincentzahedi@gmail.com
Follow Me On Twitter