Papa Vinyard here, now here's a little somethin' for ya...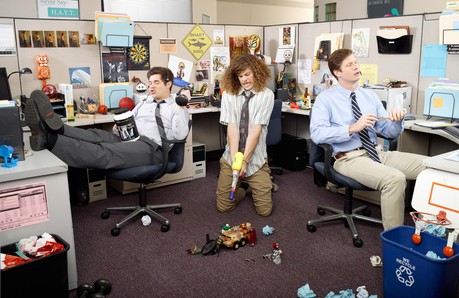 The Hollywood Reporter has announced that legendary producer Scott Rudin is currently developing a feature film based on the Comedy Central show, WORKAHOLICS. All three lead actors, Blake Anderson, Adam DeVine, Anders Holm, will obviously be onboard for the project, and series co-creator and frequent co-star Kyle Newacheck will direct.
I've only seen a couple of episodes of the show, which revolves around three rommates who work day jobs as telemarketers, but the cast certainly has a certain unique, slacker-y chemistry that could very well lend itself to a cinematic translation. No word on what the premise of the film would be, but I could imagine it would involve the titular characters cleaning up a massive fuck-up that they, themselves, ostensibly created.
What do you WORKAHOLICS fans think? Does a feature film sound like a good progression for the series? Is this really a more viable feature film than an ARRESTED DEVELOPMENT movie??
-Vincent Zahedi
"Papa Vinyard"
vincentzahedi@gmail.com
Follow Me On Twitter