Papa Vinyard here, now here's a little somethin' for ya...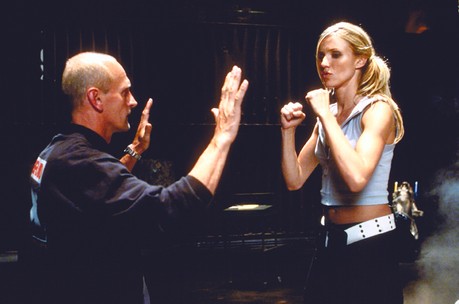 We'd known about the plans for a "female EXPENDABLES" for a while now, and even figured that Milla Jovovich would probably one of the first stars that'd get signed to the roster. Well, following their habit of first revealing stuff to the Bulgarian press, Avi Lerner and his Millenium Films revealed to that nation's Standart (cute name) that he's currently in talks with Jovovich, Meryl Streep, and Cameron Diaz for the project now called THE EXPENDABELLES. According to Deadline, Lerner is on the lookout for a female action director (we're all thinking the same "Big" name, right? hint, hint?), and has a script by, um, the writers of 10 THINGS I HATE ABOUT YOU, LEGALLY BLONDE, and THE UGLY TRUTH. Not to be sexist, or anything, but I wouldn't mind getting Shane Black or someone getting a pass at this...or any female writers out there who are more versed with the badass side of femininity than they are with ditziness and dating politics.
We've seen Jovovich and Diaz kick-ass onscreen before, and Streep would make an A+ handler/ex-Belle character, especially if they let her really cuss up a storm and go at it. No word on whether Gina Carano, who's been linked to the project for a year, is still onboard, but I'm really hoping they get her because a. she's just as physically attractive as her co-stars (if not more so) and b. she's the only one that can really lay down the Van Dammage when she needs to.
Who else would you guys want to see join this new franchise? Angelina Jolie? Michelle Rodriguez? Michelle Yeoh? Linda Hamilton? Cynthia Rothrock? Sybil Danning? Chloe Moretz as the Liam Hemsworth-y new blood?
-Vincent Zahedi
"Papa Vinyard"
vincentzahedi@gmail.com
Follow Me On Twitter