Ahoy, squirts! Quint here with today's Behind the Scenes Pic!
Here's another one I've written about a lot, so I won't repeat myself too much, but today's picture is from Tobe Hooper's TV movie based on Stephen King's Salem's Lot!
The TV movie is interesting and possibly one of my favorite things Tobe Hooper for sure directed (sorry, Poltergeist... you don't count). What's crazy about Salem's Lot is that it was only the second ever Stephen King adaptation, behind De Palma's Carrie, and it was the first one that really felt like it captured King's ability to create a detailed small town invaded by an evil force, which became his trademark.
Carrie was expertly adapted and a better film overall, but Salem's Lot is much more Stephen King-y if that makes any sense.
The below picture features the big bad guy, Mr. Barlow, portrayed by Reggie Nalder. You have Reggie on the right and his Nosferatu-ish duplicate Barlow head in full makeup. Thanks to Neal Kennemore and the Practical Effects Group for the shot!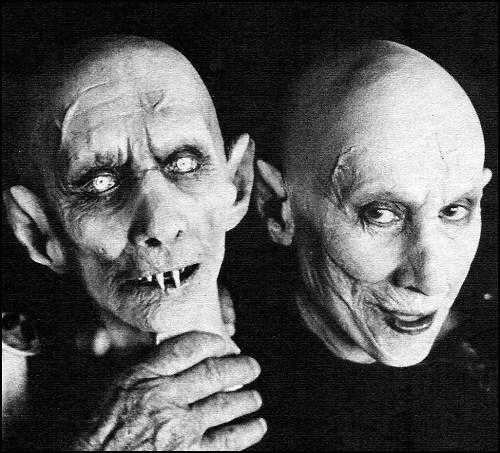 If you have a behind the scenes shot you'd like to submit to this column, you can email me at quint@aintitcool.com.
Monday's pic will make you cry for your mummy.
-Quint
quint@aintitcool.com
Follow Me On Twitter
I've got a lot of maintenance work to do on the previous BTS articles, but you can visit two pages worth of images (beware of some broken links thanks to the last server shift): Click here for Page One and Click here for Page Two!