Papa Vinyard here, now here's a little somethin' for ya...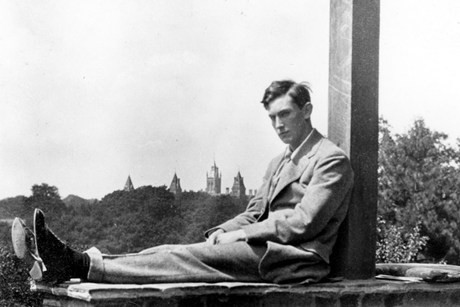 There's no cumber-stopping the Cumberbatch train. With showy roles in this fall's 12 YEARS A SLAVE, THE FIFTH ESTATE, AUGUST: OSAGE COUNTY, and THE HOBBIT: DESOLATION OF SMAUG, the dude's star power is raising with each passing week, and the number of projects he's been attached to and rumored for keeps increasing. The latest film the deep-voiced Sherlock is eyeballing is EVEREST, Sony's Doug Liman film about competing climbers George Mallory and George Finch. He'd be replacing Tom Hardy as Mallory, who died while attempting to traverse the legendary peak in 1924. According to Deadline, Liman is still trying to lock down Cumberbatch while lining up another major name for the Australian Finch. Names that have been tossed around for either part include James McAvoy, Jim Sturgess, Tom Hiddleston, Henry Cavill, and Luke Evans.
As you can see in the above picture, there's more than a passing physical resemblance between Mallory and Cumberbatch, so it's not even mild stretch to see him in the role. This seems like an intense, physically demanding role for the up-and-comer, and one that could be the springboard for his career that THE FIFTH ESTATE wasn't able to be. Let's just hope that experience hasn't turned him off of playing real-life figures.
There's a competing EVEREST project over at Universal, with Josh Brolin, John Hawkes, and Jake Gyllenhaal, and Jason Clarke that revolves around the '96 expedition that killed 8 people. That one's scheduled to start shooting next month, but if that doesn't happen (the financing situation's been wobbly on that one), then the Doug Liman film could appear in theaters before its competition even begins its marketing campaign.
EVEREST is aiming to start shooting in March 2014, with a possible release date of November/December '14 at the earliest.
-Vincent Zahedi
"Papa Vinyard"
vincentzahedi@gmail.com
Follow Me On Twitter