Papa Vinyard here, now here's a little somethin' for ya...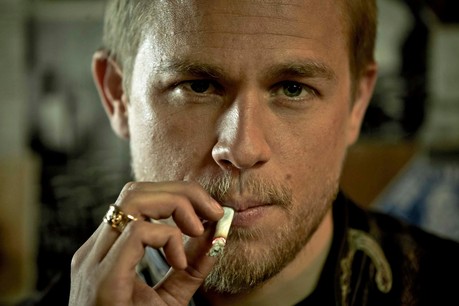 A month before shooting commences on their adaptation of E.L. James' FIFTY SHADES OF GREY, and Universal has lost their leading man. Charlie Hunnam has officially dropped out of the sexually-charged Sam Taylor-Johnson drama, allegedly due to scheduling disputes regarding his FX show, SONS OF ANARCHY. Universal blames "Hunnam's immersive TV schedule which is not allowing him time to adequately prepare for the role of Christian Grey." But wouldn't they have figured that stuff out already by now?
Mike Fleming over at Deadline hypothesizes that the real reason may have more to do with the controversial material than any late-in-the-game scheduling snafus. I mean, the guy's an up-and-comer, and has been for several years, but there's no doubt that once this movie came out with him in it, his face would immediately conjure up images of S&M gear and angsty movie sex for years to come. Makes some sense he'd want to dodge that bullet before the publicity onslaught surrounding the production kicked into high gear. I don't think if you asked Bruce Willis or Mickey Rourke what films they were proudest of from the early-'90s that COLOR OF NIGHT or WILD ORCHID would enter the conversation. I mean, a legion of fanboys are already on his side after UNDECLARED, SOA, and PACIFIC RIM; does he really need to risk sullying that image for this nudity-heavy, trashy property?
The list of contenders for the role of Christian Grey was fairly extensive, so this doesn't put the production in jeopardy or anything. I'm sure whoever they get to replace Hunnam will fill their requirements in terms of talent and looks anyway, just maybe with a slightly lesser star profile. Not like I care. I didn't read the books.
What do fans of the series (if any read this site) think about Hunnam dropping out, and who is likely to replace him?
FIFTY SHADES OF GREY taps that ass…hard on August 1, 2014.
-Vincent Zahedi
"Papa Vinyard"
vincentzahedi@gmail.com
Follow Me On Twitter