Papa Vinyard here, now here's a little somethin' for ya...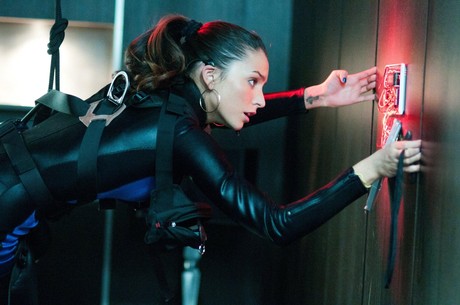 Variety has reported the news that Kevin Smith's oddball horror project, TUSK, has found its female lead in Genesis Rodriguez. Rodriguez, who had sizable roles in IDENTITY THIEF, THE LAST STAND, and CASA DE MI PADRE, will be joining Michael Parks and Justin Long in the horror-ish film that Smith describes as "an old British Hammer horror film, in which a mad scientist intends to sew some hapless lodger into counterfeit blubber, creating a chimera in an effort to answer the ultimate riddle, 'Is man, indeed, a walrus at heart?!'" (via The Hollywood Reporter).
Even though she doesn't have the rep or resume of her two co-stars, I enjoyed Ms. Rodriguez's work in IDENTITY THIEF, and considering Smith's talent for writing strong female characters (think AMY, Linda Fiorentino in DOGMA, or even Rosario Dawson in CLERKS II), I'm intrigued to see what kind of role he has lined up for her. I'm hoping it's not simply Long's helpless girlfriend or something like that, but rather a separate element to flesh out this bizarre, curious-sounding premise.
I've also heard that Parks goes full-on crazy in this one, so no matter who they get to pad out the cast, I gotta check it out whenever Smitty finally gets this thing into theaters.
TUSK is set to start shooting next month, and although it won't meet Smith's original goal of premiering in Sundance '14, it'll probably play festivals, and maybe even theaters, later next year.
-Vincent Zahedi
"Papa Vinyard"
vincentzahedi@gmail.com
Follow Me On Twitter