Ahoy, squirts! Quint here with today's Behind the Scenes Pic!
I absolutely love this picture, showing off not only the early days of one of the most iconic horror figures of my childhood, but also the inventiveness of one Mr. Wes Craven's vision for a nightmare reality. A Nightmare on Elm Street has a fucked up tone that was driven by the fantasy-like dream powers of its big threat, then referred to as Fred Krueger.
Today's picture shows off one of those big moments. When poor Tina gets hers, she's dragged all around the room, up the walls and across the ceiling as her hapless boyfriend watches in horror. Most of you guys are pretty cinema savvy, so you probably know that they had a spinning room for this trick. All you got to do is lock down the camera, glue all the furniture in place and pray nothing goes wrong and viola, you have what appears to be a person defying the laws of gravity. Lionel Richie used this very same effect for his famous Dancing on the Ceiling music video and more recently Christopher Nolan did this on a bigger scale in Inception.
The photo shows Robert Englund in his full makeup walking on the wall as Wes Craven looks on. If my memory of this scene is right, Freddy doesn't actually appear here except for a brief shot of him under the covers with Tina, so I'm not sure why this shot exists other than him checking out the setup. That's enough for me, though. It's super rad and how could I possibly have a Halloween run of BTS images and not include Mr. Krueger?
Thanks to William Forsche and the Practical Effects Group for the image. Enjoy!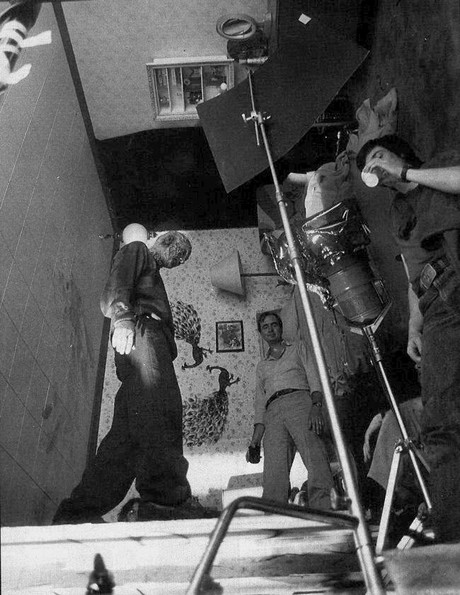 If you have a behind the scenes shot you'd like to submit to this column, you can email me at quint@aintitcool.com.
Tomorrow's behind the scenes pic is dead... or maybe just buried, I can't remember which.
-Quint
quint@aintitcool.com
Follow Me On Twitter
I've got a lot of maintenance work to do on the previous BTS articles, but you can visit two pages worth of images (beware of some broken links thanks to the last server shift): Click here for Page One and Click here for Page Two!