Hey guys! Horrella here...
Over the past few years, Woody Harrelson has become an actor that I really enjoy watching. NO COUNTRY FOR OLD MEN...A SCANNER DARKLY...ZOMBIELAND...THE MESSENGER... He has played some roles over the past decade that are increasingly tough, dark, and amazingly complex. Not at all what we would have predicted in the early days of his career when he was the nicest bartender EVER on CHEERS.
And from the look of this new trailer for Scott Cooper's OUT OF THE FURNACE, his role of Curtis is looking to jump straight to the top of this list.
From Scott Cooper, the critically-acclaimed writer and director of Crazy Heart, comes a gripping and gritty drama about family, fate, circumstance, and justice. Russell Baze (Christian Bale) has a rough life: he works a dead-end blue collar job at the local steel mill by day, and cares for his terminally ill father by night. When Russell's brother Rodney (Casey Affleck) returns home from serving time in Iraq, he gets lured into one of the most ruthless crime rings in the Northeast and mysteriously disappears. The police fail to crack the case, so—with nothing left to lose—Russell takes matters into his own hands, putting his life on the line to seek justice for his brother. The impressive cast of Christian Bale and Casey Affleck are rounded out by Woody Harrelson, Forest Whitaker, Zoe Saldana, Sam Shepard and Willem Dafoe.
Obviously, Harrelson's is not the only highly-anticipated performance to come out of this movie. This project is filled with talented actors looking to tell a compelling story, and it is one that I am really looking forward to this fall.
OUT OF THE FURNACE will open wide on December 6th.
What do you guys think?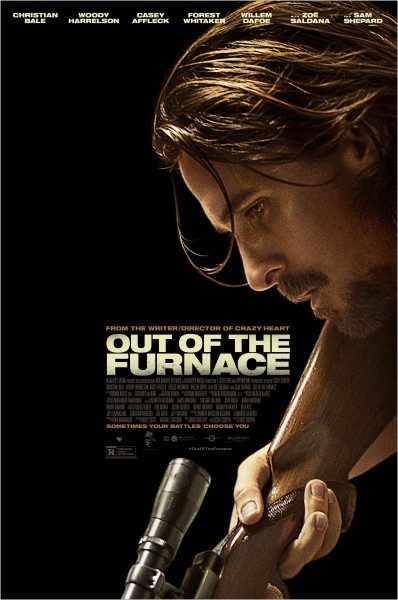 Follow me on Twitter