Ahoy, squirts! Quint here with today's Behind the Scenes Pic!
It's Halloween time! My favorite time of year! It's starting to get cooler outside, Halloween decorations are being sold at every store, the leaves are beginning to change and horror is on everybody's mind.
As usual, I'll be switching gears and posting only horror BTS pics this month, so let's get started with a supremely influential film, 1996's SCREAM directed by Wes Craven. I'd argue this film's influence wasn't a good thing, but Scream itself is a great deconstruction of slasher movies. Smart, funny, brutal and effective as both a critique of slashers and a damn good slasher itself. That's the rare balance that first film was able to strike and a glut of impersonators tried to copy.
I'm no fan of the horror remake culture, but I'll take that over another run of tongue-in-cheek slashers any day of the week. The Fog hurt, but Valentine hurt even more. It wasn't until the Asian influenced horror films came in that the pendulum once again swung back to better horror, so thanks The Ring!
Today's shot comes courtesy of makeup man Robert Kurtzman (the K of KNB) of him posing with poor Casey, cup of blood in hand. You know how it is.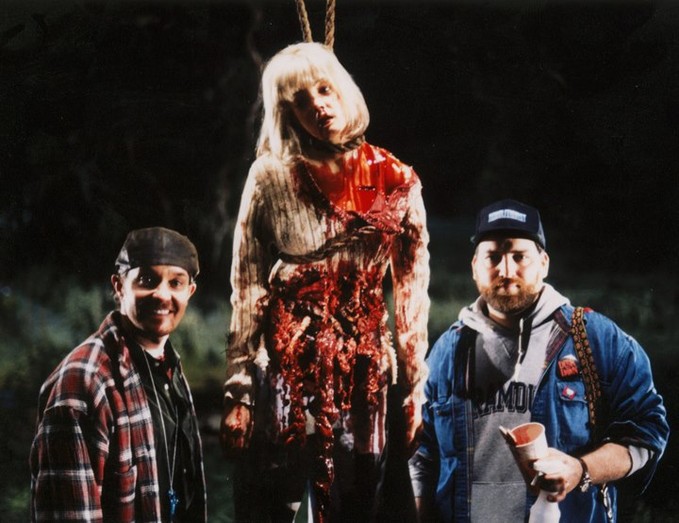 If you have a behind the scenes shot you'd like to submit to this column, you can email me at quint@aintitcool.com.
Tomorrow's behind the scenes pic is alive.
-Quint
quint@aintitcool.com
Follow Me On Twitter
I've got a lot of maintenance work to do on the previous BTS articles, but you can visit two pages worth of images (beware of some broken links thanks to the last server shift): Click here for Page One and Click here for Page Two!