Papa Vinyard here, now here's a little somethin' for ya...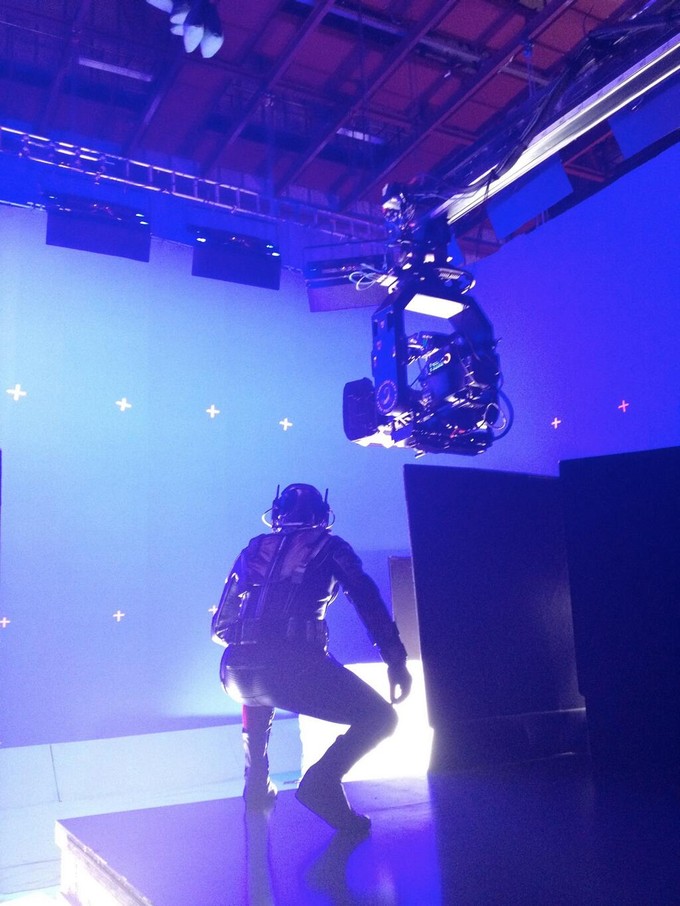 For a movie that hasn't even gotten in front of cameras yet, we sure have seen a lot of ANT-MAN thus far. We saw footage of the titular character in action (well, some of us did at least), and now, we get a look at some sort of pre-production shot of our minuscule hero crouching, for some reason or another.
Edgar Wright revealed the pic himself earlier today via this tweet...
Now I'm back in LA, it's high time to finish a little something I've been working on... pic.twitter.com/ko3u1q45C4

— edgarwright (@edgarwright) October 2, 2013
There's been no confirmation as to why this elaborate setup, complete with a large, green-screened set and a sophisticated camera rig, is being implemented in such an early stage of production. SlashFilm's Germain Lussier came up with some ideas.
Is Wright going back and shooting another test reel? Was the one audiences saw not fully complete? Or is this, possibly, some kind of tease to be added onto another piece of Marvel media? If it was the last one, I don't think he'd be allowed to tweet about it. My guess is maybe some costume tests to see if this suit is really the one they want to move ahead with.
If it weren't for the green-screen, I'd agree with the costume test idea. The get-up was cool and low-fi in a geeky sort of way, but if they are considering edging away from the DAREDEVIL-meets-HYDRA-Soldier vibe of his current duds, I'd completely understand. As is, I wouldn't be surprised if this was, like Germain speculated, for some sort of re-do of the previously-seen teaser footage, this time to serve as a glossy, fully-rendered introduction to the character for non-fanboy people who have no idea who he is or what he can do. Time will only tell. What you folks think?
ANT-MAN swarms theaters on July 31st, 2015.
-Vincent Zahedi
"Papa Vinyard"
vincentzahedi@gmail.com
Follow Me On Twitter