Hey Yo! Draven here.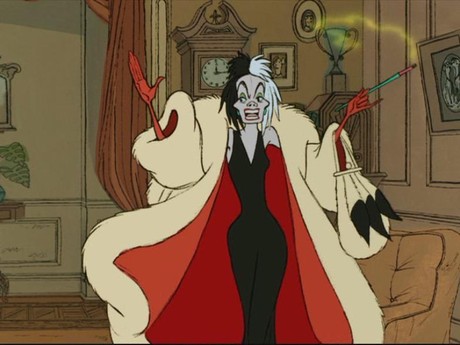 Disney is continuing their recent trend of making live-action films out of their classic animated films, as THR is reporting that Aline Brosh McKenna (THE DEVIL WEARS PRADA) has been hired to write a script for a new live-action Cruella de Vil film. McKenna already wrote the script for Disney's upcoming live-action CINDERELLA adaptation and apparently they liked it enough to bring her back for this. Disney also has the Angelina Jolie-starring, live-action film, MALEFICENT based on SLEEPING BEAUTY's villainess coming next year.
Cruella de Vil is of course the villainess of Disney's 1961 animated classic, 101 DALMATIANS. She was also portrayed by Glenn Close in a Golden Globe nominated performance in a 1996 live-action version of 101 DALMATIANS and a sequel in 2000. McKenna's hire makes perfect sense as Meryl Streep's character in THE DEVIL WEARS PRADA had a lot of similarities with Cruella de Vil.
De Vil is one of the most recognizable and memorable Disney villains, so I understand from a business perspective why they want to make this. What I don't understand is how they are going to make this interesting enough to justify its existence. Glenn Close already gave a memorable performance as de Vil in two previous live-action films and it doesn't sound like they are going to remake the DALMATIANS story so where do they go with this? Is it going to be a prequel to the events of 101 DALMATIANS? Who are they going to get to portray de Vil? It is going to have to be a big name star and how are they going to separate their performance from feeling like an imitation of Close's? Why am I putting so much thought into what is likely just Disney trying to make some money off of a recognized property?

What do you guys think? Are you at all interested in this or does it sound like a cash grab?
Follow me on Twitter here!