Hey guys! Horrorella here...
Disney has released the full trailer for their upcoming animated feature FROZEN. Based loosely on Hans Christian Anderson's The Snow Queen, it will tell the story of a princess (Kristen Bell) who must set out on a journey to find her sister - the only person who can break the hold of the icy winter that has overtaken the kingdom.
Walt Disney Animation Studios, the studio behind "Tangled" and "Wreck-It Ralph," presents "Frozen," a stunning big-screen comedy adventure. Fearless optimist Anna (voice of Kristen Bell) sets off on an epic journey—teaming up with rugged mountain man Kristoff (voice of Jonathan Groff) and his loyal reindeer Sven—to find her sister Elsa (voice of Idina Menzel), whose icy powers have trapped the kingdom of Arendelle in eternal winter. Encountering Everest-like conditions, mystical trolls and a hilarious snowman named Olaf, Anna and Kristoff battle the elements in a race to save the kingdom.
The film is being directed by Chris Buck (TARZAN) and Jennifer Lee (the screenwriter for WRECK-IT RALPH), who also wrote the screenplay, with Shane Morris.
The trailer shows off the stunning animation at work in the film, but doesn't really give viewers a peek at any of the songs that your kids will probably be singing for month on end after the film's release - this is a Disney musical, after all.
Oh well - at least you won't have terribly long to wait. FROZEN opens on November 27th.
What do you guys think?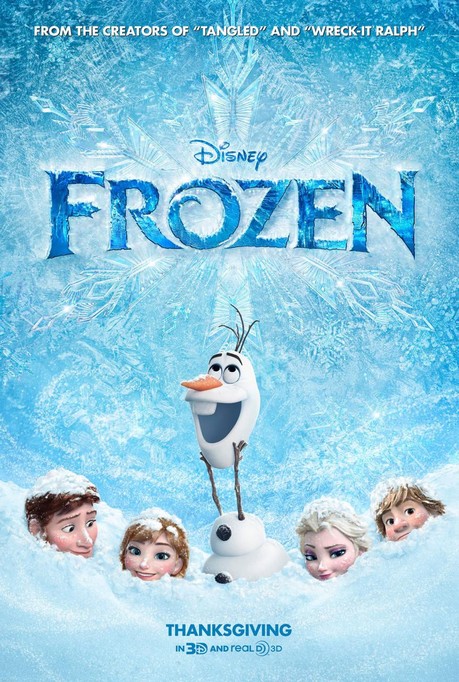 Follow me on Twitter