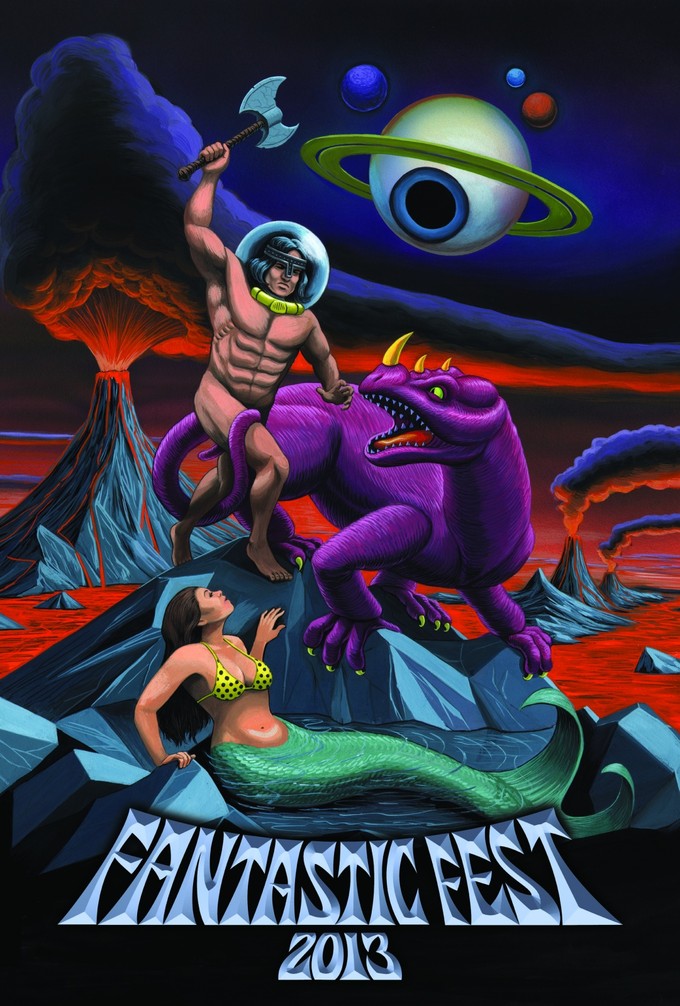 During this years SXSW I had the misfortune of missing every screening for CHEAP THRILLS. Though I kept hearing rave reviews from all my pals, none of the showtimes fit my schedule. Needless to say, I was very excited to hear that Drafthouse Films had acquired the film and would be screening it at Fantastic Fest. I am always a bit worried when my expectations for a film are so sky high, but I am happy to report that CHEAP THRILLS met and exceeded any preconceived notions that I already had.

The story begins with Craig, a down-on-his-luck family man whose writing career is a wash. With bills piling up and an eviction notice taped to his door, Craig hits rock bottom when he gets laid off from his Joe job doing oil changes. While drowning his sorrows at a local dive, Craig is reunited with Vince, an old buddy from high school. Though they once had much in common, it quickly becomes apparent that the pair have chosen different paths since they last met five years earlier. Where Craig has followed the straight and narrow, Vince's career choice as a knee breaker inherently lends itself to a more seedy lifestyle. What the pair do still have in common is money issues. While commiserating about their respective woes, the pair is introduced to a mysterious couple, Colin and Violet, who insist that they join them for a night of debauchery. Colin and Violet's brand of partying, however, involves a series of dares and bets with the winner collecting cash from Colin's seemingly bottomless pockets. Though the challenges start off fairly innocent at first- the first to take a shot gets $50, get the girl at the bar to slap you and get $100, etc- the dares and the winnings soon escalate to a level that no one (except maybe Colin and Violet) could predict.

At its heart, CHEAP THRILLS is a simple study in desperation, manipulation, and greed. It is a story about the ridiculous lengths people will go to for money, even when the consequences become increasingly grim.

Writers Trent Haaga and David Chirchirillo have created a unique group of characters and have thrown them into an extraordinary set of circumstances that eventually spiral out of control. Director E.L. Katz has brilliantly illustrated the duo's story by keeping the tension level amped throughout the film while also gradually increasing an overall feeling of desperation as the story and characters devolve.

To say this movie wouldn't work without the the incredible performances of the actors would be a major understatement. Pat Healy's Craig is a note perfect portrait of a man who begrudgingly gets involved in the group's shenanigans and comes out a changed man. Ethan Embry as Vince lends the story the loose cannon that it needs, but also makes a most bittersweet arc that left me stunned. Sara Paxton and David Koechner as Violet and Colin are aptly creepy without being obvious at all. I absolutely loved seeing Koechner in a dramatic role. It's always so fascinating to see the class clown play serious, but Koechner plays downright sinister here without going over the top.

You absolutely must see CHEAP THRILLS when Drafthouse Films eventually delivers it to a screen near you.


Until next time,

Annette Kellerman