Papa Vinyard here, now here's a little somethin' for ya...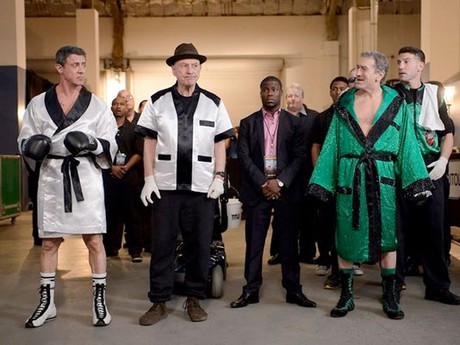 After that peek at the film we got yesterday, today we get a trailer for the Sly Stallone/Robert De Niro boxing comedy, GRUDGE MATCH. Most interestingly, to me, is how similar the plot is to Sly's ROCKY BALBOA; where that film had a "digital exhibition" between Rocky and an up-and-comer that spurred interest in a real life match, this one has the same thing happen after a viral video shows a brawl breaking out while the two fighters are doing mo-cap for a boxing video game. Of course, this leads to the old guys wondering if there's "anything left in the basement", and decide to take their bout to the real life ring.
There's a serio-comic tone to this trailer that worries me, but it's always exciting to see Sly training. And I'm feeling the supporting cast, which includes Alan Arkin, Kevin Hart, Jon Bernthal (as De Niro's son! +1 for the casting director), Kim Basinger, and LL Cool J. This could very well be a talent-heavy disaster on par with, say, LITTLE FOCKERS, but I cannot deny that I'll be checking this one out in theaters, maybe even with some family members. If this plays well with multiple demos, this could turn out to be a fairly lucrative Christmas release for Warner Bros.
GRUDGE MATCH goes down on Christmas Day, December 25th.
-Vincent Zahedi
"Papa Vinyard"
vincentzahedi@gmail.com
Follow Me On Twitter