Papa Vinyard here, and I got somethin' for ya...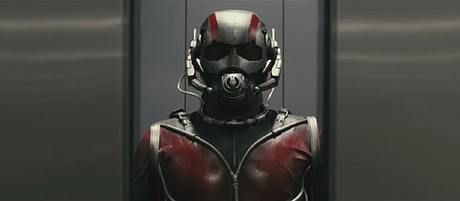 Deadline has announced that Disney has moved their Edgar Wright-directed ANT-MAN flick up from its original late-Fall release date for a Summer opening. The comic book adaptation, which kicks off Phase Three of the Marvel Cineverse, was originally slated to drop on November 6th, 2015, which would've put it squarely up against the latest Sam Mendes-directed Bond film, but will now be released on July 31st, where its only competition (for now) is MISS PEREGRINE'S HOME FOR PECULIAR CHILDREN (which sounds like an X-MEN spinoff, but isn't).
So instead of waiting the half-a-year that separates IRON MAN 3 and THOR: THE DARK WORLD, we will get a new Marvel feature only about 3 months after AVENGERS: AGE OF ULTRON closes the book on Phase Two. I wonder what prompted the change? Maybe a notion that the "Marvel spirit" is strongest among fanboys during those hot, school-free summer months? Or is there some weak THOR tracking that we haven't heard about yet? The studio has yet to open a film outside of the Summer, so I'd definitely consider cold feet as a possibility here. The wait between IM 3 and THOR 2 seems more arbitrary than it would be between films that bookend large chapters of this cinematic universe Marvel is creating, but if Hank Pym pops up in AGE OF ULTRON, audiences may be more willing to journey into his world right after his introduction than if they keep him on ice until the film hits Blu-ray/DVD.
Either way, we're getting ANT-MAN sooner than we thought. So we got that going for us. Which is nice. Then we just have to wait again until the following May for whatever the hell Marvel's got cookin up for the second installment of Phase Three.
ANT-MAN creeps onto screens nationwide on July 31st, 2015.
-Vincent Zahedi
"Papa Vinyard"
vincentzahedi@gmail.com
Follow Me On Twitter