Papa Vinyard here, and I got somethin' for ya...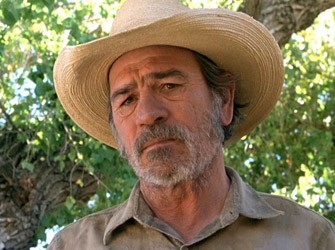 Variety has broken the news that Tommy Lee Jones has lined up his next project as a director, and it'll be a remake of John Wayne's 1972 western, THE COWBOYS. The film was about an aging ranch hand who hires a bunch of youngins to help him on a cattle drive. Bruce Dern played the villain, with Roscoe Lee Browne, A Martinez, Robert Carradine, and Slim Pickens rounding out the cast.
Jones will also be writing the film and starring in the Wayne role. He directed some great performances out of himself in THE THREE BURIALS OF MELQUIADES ESTRADA and THE SUNSET LIMITED, and considering the quality of his work, I think it's terrific that he's made this late-career move behind the camera. We'll see how his upcoming THE HOMESMAN (also starring Hilary Swank, Meryl Streep, Hailee Steinfeld, and William Ficthner) fares, but I have high hopes for it, and this seems like a great, commercial follow-up that can also highlight Jones' natural talent for acting in westerns. Hopefully he will have as much success updating The Duke as Jeff Bridges did with his Academy Award-nominated performance in TRUE GRIT.
Let's see who he gets to update Dern's villain and the young boys. I can imagine the Pattinsons and the Pettyfers of the industry will be vetted to bring in that youth market. As long as who they get doesn't compromise the production and/or step on Jones' toes, it doesn't matter.
-Vincent Zahedi
"Papa Vinyard"
vincentzahedi@gmail.com
Follow Me On Twitter