Hey Yo, Draven here.
Warner Brothers really wants us to get as much Ben Affleck as possible. A week after announcing he would be the new Batman, they have unveiled an ARGO: EXTENDED CUT Blu-ray box set that will be available to own on December 3rd, 2013.
Following in the footsteps of THE TOWN (which got multiple alternate cuts), this extended version of ARGO will contain nine additional minutes, "that delves deeper into CIA specialist Tony Mendez's personal relationships with his wife and son."
ARGO of course won Best Picture at this year's Oscar ceremony so it is hard for me to believe that this cut will improve the film. It is also pretty telling that they are avoiding using the phrase, "director's cut" as I am sure the theatrical cut was Affleck's true "director's cut".
I thought the extended cut of THE TOWN really hurt that film's pacing and flow compared to the theatrical release but it was interesting to compare the two cuts of the film (and especially one of the alternate endings, which was dramatically different). I don't think this alternate cut of ARGO will be as different. The extended cut of THE TOWN was almost 30-minutes longer than the theatrical one, where this one will only be 9-minutes longer. I can't wait to see it though and I have no problem double dipping on ARGO,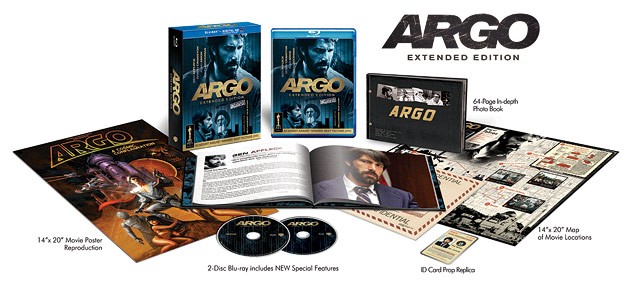 But that is not all, WB really loaded this set as you can see from the picture above, The disc itself will contain three brand new featurettes in addition to the original special features that will be retained on this release. The box set will feature a 64-page book and a one sheet for the fictional film ARGO (not the actual one) plus much more. All of this for the SRP of $49.99 but you can pre-order it on Amazon now for $44.99. Pretty spiffy set for a fantastic film. I can't wait to pick this up. Thanks to The Digital Bits for the heads up.
Follow me on Twitter here!