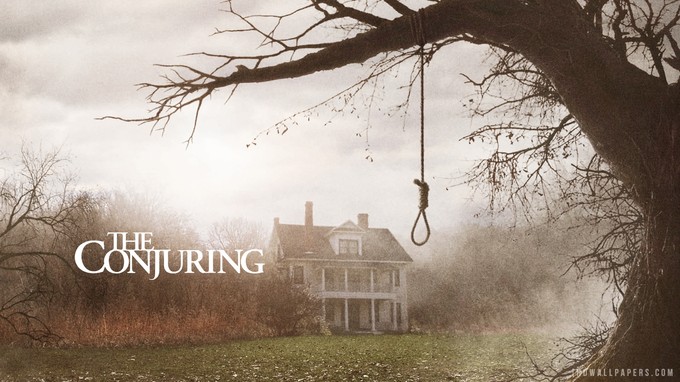 ***SPOILER ALERT FOR THE FIRST CONJURING FILM ***
Those who saw James Wan's rather excellent THE CONJURING a few months ago may recall that the film ends with an oblique tease that its lead investigators - played by Patrick Wilson and BATES MOTEL's Vera Farmiga, might be headed off to investigate that famously haunted house in Amityville.
As we get closer and closer to the film's sequel, however, it's looking like this may not necessarily be the case. THIS report recently indicated that instead of Amityville, the CONJURING follow-up would instead focus on the 'real life' accounts of two allegedly possessed sisters in England.
In THIS discussion with ShockTillYouDrop, Wilson more or less confirms this scuttlebutt, indicating...
"Chad and Carey, the writers, they sort of let this cat out of the bag, so I'm just confirming their gossip, which is they were interested in a story in London, overseas, of some sisters that were possessed. I don't know, I haven't seen the script."
[EDIT]
"I can imagine it won't be Amityville."
The article is quick to point out that the upcoming (apparently England-set) sequel could be used to further set up its lead characters' ultimate investigation at Amityville - I suppose we'll find out soon enough.
I am not a horror buff and not even a huge fan of suspense films, but I found THE CONJURING to be smart, sleek, impactful filmmaking which made me jump in a way few other films have lately. I do very much look forward to seeing further adventures/investigations of Wilson's and Farmiga's Ed and Lorraine Warren characters , but sincerely hope any follow up films will be as fully and carefully considered as the first one. It was a class act.
No word on whether Wan will return to direct this next film - while fingers are crossed, he is at the helm of FAST AND THE FURIOUS 7 so it's unclear if or when he can circle around to more CONJURING (or whatever it'll be called) antics.
It should be noted that a James Wan FAST & FURIOUS film is all kinds of badass. Can't wait for that one...
-------------------
Glen Oliver
"Merrick"
- e-mail
- Twitter
- Google +