Howdy do, everyone, Papa Vinyard here.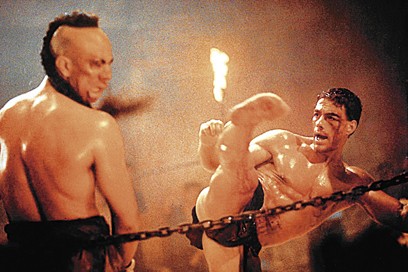 UPDATE (19:50): We now have word from Deadline that Radar Pictures is developing a remake of another early Jean-Claude Van Damme pic, 1989's KICKBOXER. They've signed on Stephen Fung (TAI CHI ZERO) to direct, and have lined up TV writers Jim McGrath and Dimitri Logothetis to do the script. No word as to casting, shooting dates, or how closely they'll follow the original's framework, which involved a fighter who gets crippled by the freaky-as-shit Tong Po, and his brother (played by JCVD) who subsequently gets his ass in gear to get some in-ring revenge.
ORIGINAL STORY BELOW:
The Wachowski Siblings' go-to director, James McTeigue, has signed on to Relativity's BLOODSPORT reboot, according to Variety. The pic is gearing up to shoot early next year in Australia and Brazil, and McTeigue, along with Craig Rosenberg (AFTER THE SUNSET, THE UNINVITED), is currently rewriting the old draft by Robert Mark Kamen and Philip Noyce (who was previously lined up to direct). In Kamen/Noyce's draft, the story isn't directly a remake of the '88 Cannon version, and is about a group of mercs who get involved with a no-holds-barred MMA (also known as Vale Tudo) tournament . There are no current plans to get the original Frank Dux (well not the original, considering he was a real dude), Jean-Claude Van Damme, involved, in order to create thematic distance between the somewhat-cheesy original and this modern-day update.
It impresses me that Relativity and producer Edward R. Pressman (whose credits range from PHANTOM OF THE PARADISE to CHERRY 2000 to the CROW series to BAD LIEUTENANT: PORT OF CALL - NEW ORLEANS) sprung for a director with McTeigue's clout and experience instead of pulling a Golan/Globus and signing some random dude like Newt Arnold, who directed the original. I dig V FOR VENDETTA, and the less-interesting NINJA ASSASSIN, as well as his AD work on the MATRIX films, showed that he has a good eye for action choreography. I hope that the new script does not try and make the film too character driven, and keeps it focused on the in-tournament melees as well as the plot stuff. Lest we forget, a lot of the less successful material in the original BLOODSPORT has to do with out-of-the-ring hijinks and melodrama (although you gotta love Forest Whitaker chasing JCVD around Hong Kong).
And, for gods sake, I pray they don't shy away from the training montages, the splits, and especially the kicking. What the hell are they trying to do over there anyway? Win Best Picture?
If BLOODSPORT shoots Q1 2014 like they're aiming for, we should see it in cinemas sometime late 2014/early 2015.
-Vincent Zahedi
"Papa Vinyard"
vincentzahedi@gmail.com
Follow Me On Twitter