Howdy do, everyone, Papa Vinyard here.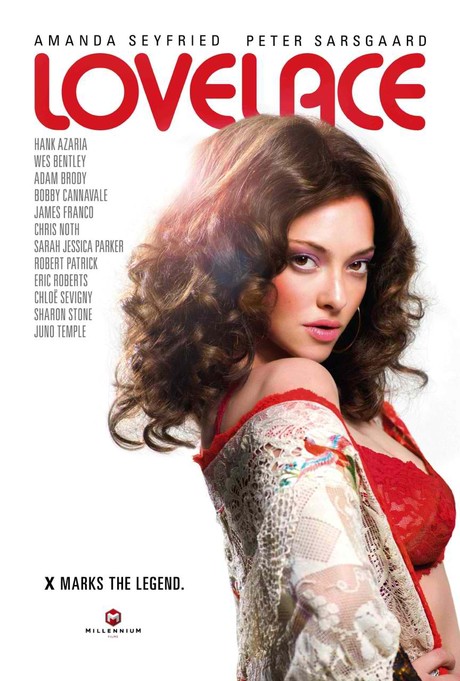 We have our first trailer for the upcoming Linda Lovelace biopic, appropriately titled LOVELACE, showing the rise and fall (no pun intended) of the adult film star. We see her beginnings as church-going Linda Boreman from the Bronx who, as the film suggests, took the jobs that required some, ahem, after-school work from her as a means of getting away from home. She hooks up with Peter Sarsgaard's Chuck Traynor, who eventually becomes jealous of the DEEP THROAT actress' meteoric rise to fame. We catch glimpses of the massive cast, including Juno Temple, Bobby Cannavale, Hank Azaria, Sharon Stone and Robert Patrick as Lovelace's disapproving parents, and, most amusingly, James Franco as Hugh Hefner.
It has yet to be seen whether the film, by HOWL directors Rob Epstein and Jeffrey Friedman, will achieve the intense potency of Bob Fosse's STAR 80, but it does look like Amanda Seyfried is really giving it her all (again, pun not intended) as the titular figure. She appears in a lot of boring pap, and got lost in the shuffle of LES MISERABLES, but she's shown her potential in projects like CHLOE, and the trailer is smart to sell her performance as the centerpiece of the film. What we get of her here might be even more appealing to me than the prolific cast, which also includes Eric Roberts, Sarah Jessica Parker, Chris Noth, and Adam Brody.
LOVELACE goes down on August 9th.
-Vincent Zahedi
"Papa Vinyard"
vincentzahedi@gmail.com
Follow Me On Twitter