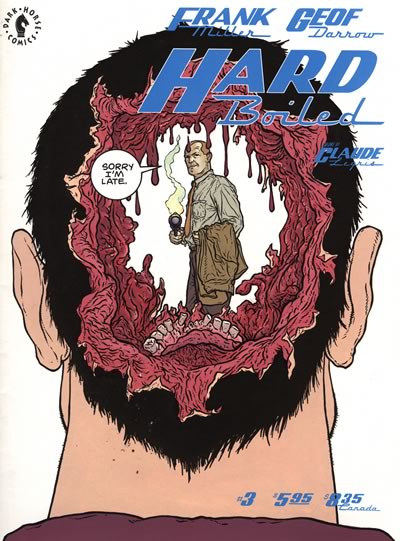 Beaks here...
Our pals over at Bleeding Cool recently interviewed writer-director Mukunda Michael Dewil about his wrong-man-with-the-wrong-rental-car action flick VEHICLE 19, and the up-and-coming filmmaker revealed that he is currently working on an adaptation of Frank Miller and Geof Darrow's HARD BOILED. Here's what Dewil had to say:
I'm adapting Frank Miller's comic book called HARD BOILED with Stephen L'Heureux from Solipsist films. They just did SIN CITY 2 and they own a lot of Frank's comics. That's a very big project that's going be out to market in a couple of weeks… it's quite a big deal. We're kind of pumped for that.
Twelve years ago, David Fincher and Nicolas Cage were in talks to make HARD BOILED for Warner Bros. That would've been... something. This will obviously be a scaled-back version, but maybe that's the way it should've been all along. I haven't seen VEHICLE 19 yet, so I can't vouch for Dewil's directorial chops, but he must have something going if he's in the running for a project like this.