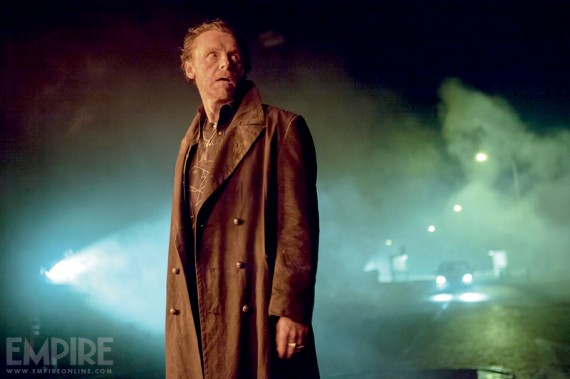 Beaks here...
One of my most anticipated films of 2013 is Edgar Wright's THE WORLD'S END, a cataclysmic comedy about five old chums reuniting for a grueling London pub crawl that concludes at the titular establishment. As they stumble their way through the twelve-bar journey, some sort of apocalyptic event begins to go down around them, and it appears that the fate of the world rests on their livers.
I'm trying very hard to stay unspoiled on this film, but there's nothing terribly revealing in these first two stills published by Empire. Basically, we see our merry band of boozers (from l. to r. below: Martin Freeman, Paddy Considine, Pegg, Nick Frost and Eddie Marsan) doing what they used to do best, and a fog-enshrouded Pegg casting a disconcerting gaze upward. Pegg tells Empire that THE WORLD'S END is a "much bigger proposition" than SHAUN OF THE DEAD or HOT FUZZ. He also says that each of the twelve bars has a very distinct personality. If Wright makes it through the entire run time without throwing one AN AMERICAN WEREWOLF IN LONDON reference at us, the boy is slacking. Ditto QUATERMASS AND THE PIT. And SOUNDER.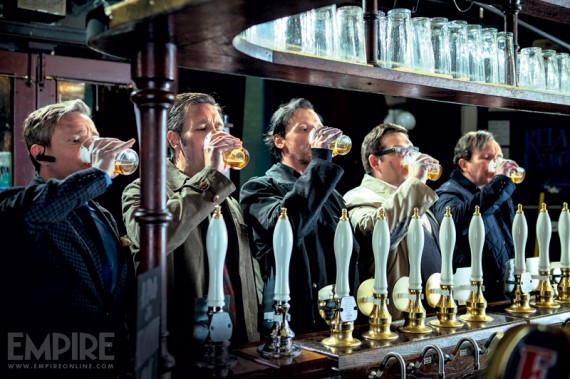 Bottoms up, fellas. THE WORLD'S END opens in England on August 14, 2013. We don't get to see it in the U.S. until October 25th. Boo-urns.
Hey look! It's another picture!