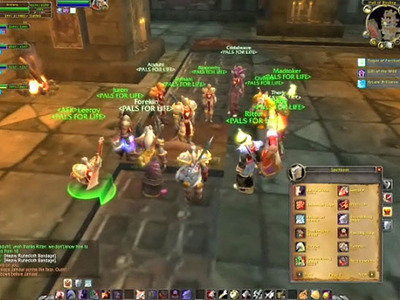 Beaks here...
Three years ago, Duncan Jones said he believed Blizzard Entertainment's WORLD OF WARCRAFT had the potential to be the first great video game movie. Now he gets to prove it.
According to The Hollywood Reporter, Legendary and Atlas Entertainment have tapped the director of MOON and SOURCE CODE to bring the vast WoW universe to the big screen. This is a dream job for Jones, who is an avowed gamer and a huge fan of WoW in particular. Here's what he told Badass Digest a few years ago:
I'm hugely jealous of Sam Raimi. I really believe WORLD OF WARCRAFT could be the launch of computer games as good films. From the little I've read of interviews with him the way he's approaching it makes so much sense. It's not worrying about how the game plays, it's about creating the world of the game and investing the audience in that world.

I'm very cynical of the number of directors who say they're actual gamers. I'm a real gamer and I think there are less real gamers involved in directing only because you have to spend so much time making films that there's no time to be a hardcore gamer. I'm just slightly insane and I stay up all night playing games.
I've never played WoW, but when it comes to the game's cinematic qualities, I'll take Jones's word for it. He's a smart, talented guy, and seems like a born visual storyteller. Legendary has a script by Charles Leavitt (BLOOD DIAMOND, THE MIGHTY, K-PAX), and the plan is to get WARCRAFT (the film's current title) into theaters by 2015 - so get ready for lots of casting news, as this sucker's going into production very soon.