Ahoy, squirts! Quint here with today's Behind the Scenes Picture.
While I think Temple of Doom is a better film, Gremlins 2 shares a similar fan-backlash fate as Indy's second cinematic adventure. Both movies took an element of the previous and took a hard turn in that direction. In Temple of Doom's case they took the face-melting and scary as shit ark ghosts stuff and went whole hog in that direction. Gremlins 2 took the crazy Looney Tunes influence and similarly just went for it.
I always appreciate it when a sequel doesn't try to just remake the first film, so naturally I really enjoy me some Gremlins 2. Lightning Gremlin, that fucked up spider Gremlin, the super goofy turn by Christopher Lee… I'm a fan.
So, how about a BTS pic from Gremlins 2 then? Here's Joe Dante helping the great Christopher Lee celebrate some big event on the set of the sequel. Could be a birthday or some landmark moment or just because they want a special cake. They're allowed. By the way, how sweet is that cake? Thanks to Ken Thompson Marchesi and Trailers From Hell for the shot!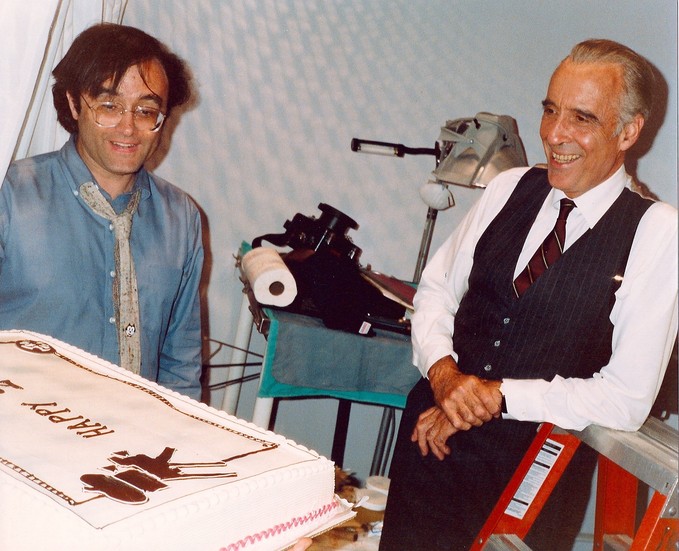 If you have a behind the scenes shot you'd like to submit to this column, you can email me at quint@aintitcool.com.
A funny thing happened on the way to tomorrow's pic.
-Eric Vespe
"Quint"
quint@aintitcool.com
Follow Me On Twitter
I've got a lot of maintenance work to do on the previous BTS articles, but you can visit two pages worth of images (beware of some broken links thanks to the last server shift): Click here to visit Page One and Click here to visit Page Two