UPDATE: Sources tell me that image is not full armor RoboCop, but rather a drone that guess who has to fight at some point in the movie. Apparently Robo himself is happy to be Tron: Legacy and The Dark Knight's lovechild and his foes will be the Iron Man reject pictured in the article.
Original post below.
Ahoy, squirts! Quint here. If I hadn't spoken to multiple people who have read the script for the RoboCop remake being helmed by Jose Padilha I wouldn't be so cynical about this reboot, but I've had the entire thing run down for me by pissed off script readers and it sounds incredibly misguided.
The concept of RoboCop being able to morph his armor from "social mode" to "armor mode" isn't a bad one, I guess, but it takes away a certain amount of Alex Murphy's struggle to regain his humanity if he can look mostly human whenever he wants.
Iron Man was able to distinguish his look from RoboCop, but they don't seem to as successful separating themselves from Iron Man in the reboot. At least they kept the OCP logo mostly the same.
That said, how this thing moves will be the real test. I'm just nervous after hearing the bits I've heard about the script and I don't want to see this remade anyway, so grumpy old man shakes fist fart-sound poop naptime to you RoboCop reboot!
Latino-Review snagged the image.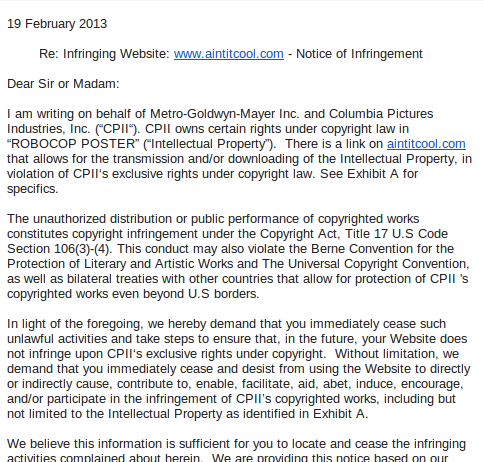 -Eric Vespe
"Quint"
quint@aintitcool.com
Follow Me On Twitter