Ahoy, squirts! Quint here with today's Behind the Scenes Picture.
The Goonies is one of the most loved films of my generation. The Amblin heyday of the early to mid '80s is chock full of great stuff for us. Goonies, Ghostbusters, Labyrinth, Legend, Neverending Story, Gremlins, Raiders, Temple of Doom, The Princess Bride, Something Wicked This Way Comes, Pee-Wee's Big Adventure, the Monster Squad… It was a good time to be a kid, that's for sure.
Today's shots are interesting in that they are indeed behind the scenes pictures from the making of The Goonies, but they feature a subplot that was never included in the film or in the extra features on the DVD and Blu-Ray editions.
The photos feature two escaped gorillas stealing Troy's car. You read that right. Apparently these gorillas, named Bonzo and Bertha, were released during the initial Fratelli car chase at the beginning of the movie and were to pop up at different times throughout the film. At one point they steal Troy's dad's golf cart and later on, just after wishing well scene, they steal Troy's car.
The photos below are supposedly assumed to be part of an alternate ending to the movie where poor old Mr. Perkins' new car gets side-swiped by these joyriding gorillas and he finds out the goonies get to keep their houses all at the same time.
You can read the blog Unpopped for more details on this sequence, including some script scans that detail the big Gorilla scenes. Here are the two photos I have for you: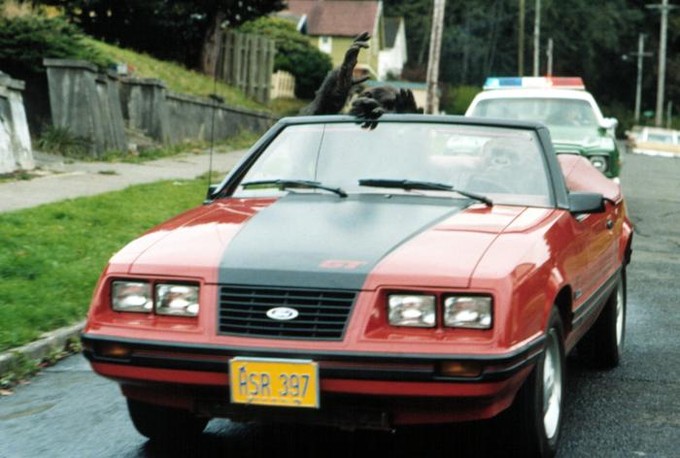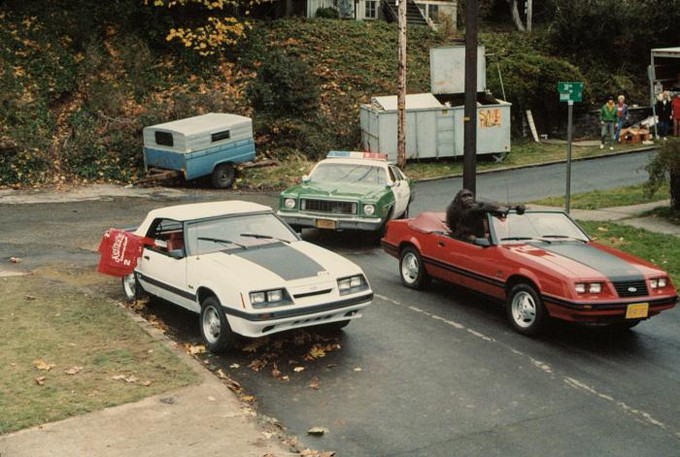 If you have a behind the scenes shot you'd like to submit to this column, you can email me at quint@aintitcool.com.
All tomorrow's pic has to do is 3 or 4 children and there'd be the most appalling publicity.
-Eric Vespe
"Quint"
quint@aintitcool.com
Follow Me On Twitter
I've got a lot of maintenance work to do on the previous BTS articles, but you can visit two pages worth of images (beware of some broken links thanks to the last server shift): Click here to visit Page One and Click here to visit Page Two