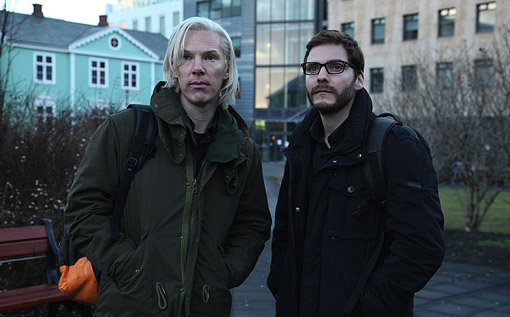 Beaks here...
It's the first day of principal photography on THE FIFTH ESTATE, so DreamWorks has decided to release the above image to EW as proof that Benedict Cumberbatch will resemble Wikileaks founder Julian Assange to a startling degree. Standing next to him is Daniel Brühl, who will play Assange's colleague Daniel Domscheit-Berg.
Condon and co-writer Josh Singer are working from two books: Domscheit-Berg's INSIDE WIKILEAKS: MY TIME WITH JULIAN ASSANGE AND THE WORLD'S MOST DANGEROUS WEBSITE and WIKILEAKS: INSIDE JULIAN ASSANGE'S WAR ON SECRECY by David Leigh and Luke Harding. The former book offers first-hand insight on Assange the man, while the latter takes more of an investigative angle on how WikiLeaks shook up governments and the media world. It sounds like the film will be told from Domscheit-Berg's perspective, which is interesting. I think I'd prefer more of a shifting-perspective approach, since I'm not entirely sure who the "hero" of this story is (if there is one), but I trust Condon's instincts.
There's no release date currently set for THE FIFTH ESTATE, but I'm guessing it'll emerge as an awards season contender later in the year.