Ahoy, squirts! Quint here with today's Behind the Scene's Picture.
You know what? Small Soldiers is kind of great. I remember a lot of people scratched their heads at it when it came out, even some long-time Joe Dante fan friends. But I stand by my adoration of that movie.
Not only does it feature Phil Hartman's last film performance (and it's a good one! "I think World War II was my favorite war…"), it has a darkly funny streak a mile wide. Nobody combines dark comedy and family film quite like Joe Dante and Small Soldiers might not be Gremlins amazing, but it's damn good nonetheless.
I mean, the movie has Barbies trying to rip Kirsten Dunst's head off. Case closed your honor. No need for the jury to retire, the verdict is: This Movie Is Awesome.
To celebrate just how damn good it is, I figured a nice BTS shot of the effects crew bringing Chip Hazard to life would be just fine and dandy. I especially like how happy they all look. Those smiles represent the joy of being paid to still be a kid playing with toys. Thanks to Dimitar Dimitrov and the PEG for this one. Enjoy!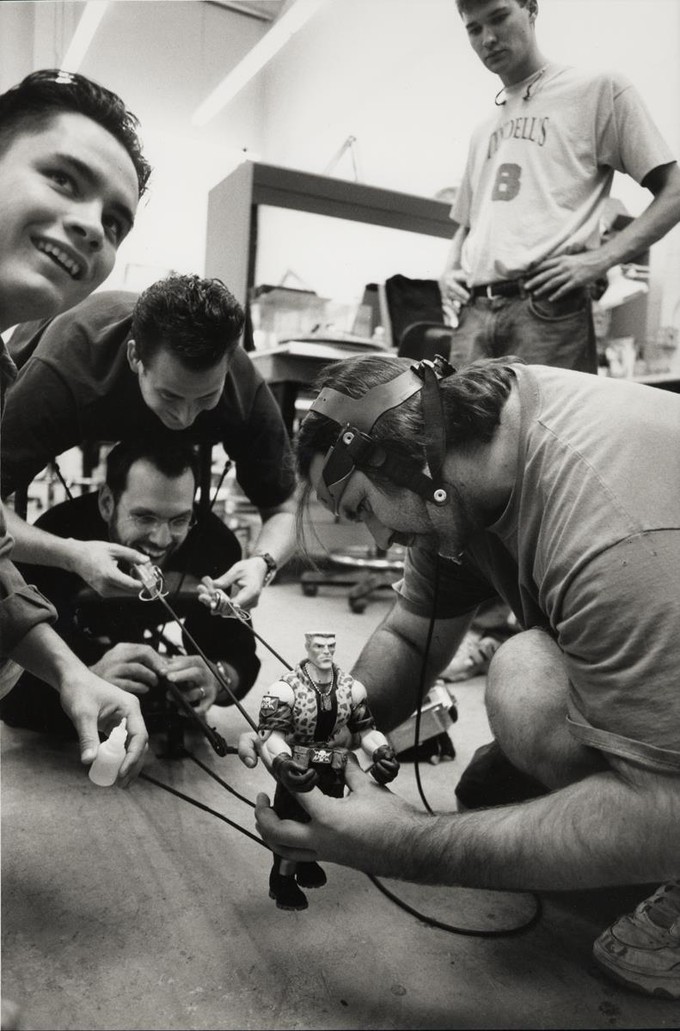 If you have a behind the scenes shot you'd like to submit to this column, you can email me at quint@aintitcool.com.
Tomorrow I go hang out with Arnold Schwarzenegger… well, by "hang out" I mean, go to a movie theater, watch his new movie and see him talk, like, 20 feet away. But still. It's exciting and I'm going to celebrate it with a rather awesome Schwarzenegger BTS pic.
-Eric Vespe
"Quint"
quint@aintitcool.com
Follow Me On Twitter
I've got a lot of maintenance work to do on the previous BTS articles, but you can visit two pages worth of images (beware of some broken links thanks to the last server shift): Click here to visit Page One and Click here to visit Page Two