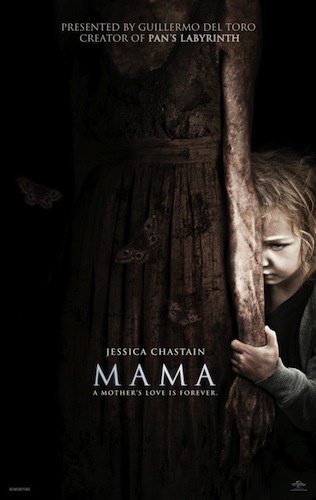 The Kidd here...
I'm still waiting for a year to be the year I get to make my trek to Austin for my first Butt-Numb-A-Thon experience. I keep hoping every new year will be the one where I get to hang out with my fellow movie lovers and geeks for the occasion of celebrating film (and Harry's birthday, of course), and then it just doesn't seem to come together, and I'm left with "Well, maybe next year..." I'm always curious to find out what I'm missing out on for those 24 hours, what Harry decided to show, both new and old, and this year was no different. I had discussions out at screenings and events with BNAT veterans who tried to make their best guesses to me as to what Harry might have up his sleeve (not that I would have been privy to that information anyway). The mystery of what might be unleashed is just one of those aspects that make the event so great.
This year, MAMA was one of the new surprises Harry brought out, and, from those I've spoken to who were in attendance, they had pretty positive things to say about the film... and I believe them. I mean, it's got Jessica Chastain in it. Enough said. Someone try to show me a bad film she's done, and I'll show you a liar. Effective horror seems to be the vibe being put out there, which works for me, as there's so few of those out there for consumption.
So, for all of us down in the South Florida area who missed out on Butt-Numb-A-Thon and the chance to see MAMA then, it's time to play a little bit of catch-up, as I've got your opportunity to see MAMA now. I've got 25 pairs of tickets to an advance screening of MAMA on Tuesday, January 15, at 7:00 p.m. at the AMC Sunset Place 24 in South Miami, and they're yours for the taking.
Want them?
Answer the following question - What is your favorite movie in which moms play a pretty crucial role, and why? - in 100 words or less.
Send that in with your name in the body of an email to Contests@AintItCool.com with the following subject line exactly (in all CAPS):
MAMA OOH
I'll take the worthy entries as they come in and reward those individuals with tickets to the screening until I'm all out. Then winners will be emailed and posted up on the site.
Just make sure you have everything I'm asking for, or your entry won't count... and you can only enter once. Duplicate entries will both get tossed.
This screening is a bit earlier than usual, so, if you're not sure if you're going to be able to make early enough to get in, it's quite simple - don't enter.
If you don't think you can get out of work early enough, or if you have class, homework, chores, scheduled surgery, an unreliable car, prior engagements or previous commitments that may prevent you from attending this screening, don't try to win only to let these seats go to waste. We've been having far too many no-shows lately, so if you decide you're not going to go in the event you do win tickets, don't worry about playing again in the future. You're going on my Black List forever and ever.
Thanks to Universal Pictures for setting this up with us, and good luck to you all.
-Billy Donnelly
"The Infamous Billy The Kidd"
Follow me on Twitter.
Like me on Facebook.