Hey friends! Barbarella here, and I can tell lots of you are excited to see BREACH from the number of entries we're getting for the contest. If you entered, or are going to, remember that winners will be notified on Friday around 4pm CST. If you don't win, check you spam folders in case your notification went there, and if you still don't win, you can still check out the movie in select theaters, On Demand and Digital that same day.
I recently had an opportunity to speak via telephone with one of the film's stars, Cody Kearsley, and I discovered he talks really quickly. I laughed to myself at how rapidly we blazed through my questions.
What appealed to you most about BREACH's screenplay and your character, Noah?
"The thing that jumped out to me first was the connection of family and what you would do for your family. Noah jumps into this situation, in this environment that he's in way over his head, and it's a dangerous environment, but he's there to provide for his partner and his unborn child. That was the biggest thing that jumped out to me about the script."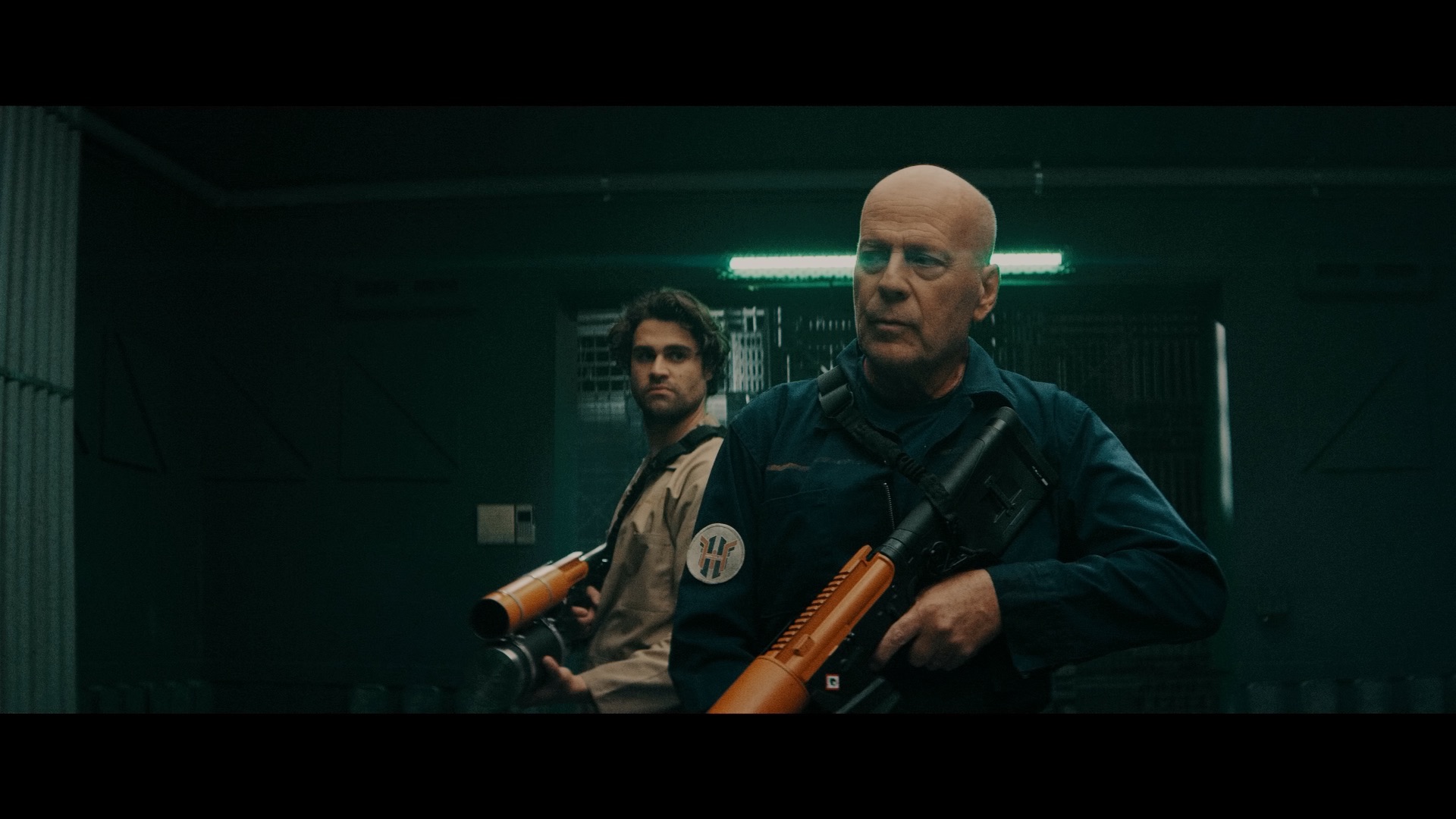 You worked with Bruce Willis on this. What was that experience like for you?
"It was fun. Since I was a kid, my dad loved his movies, and I grew up watching his movies. So, it was very surreal to be on set with him. He was fun."
What did you learn from working with him?
"It was good to just watch him do his thing, to be honest. This is his forte, these genres, the action films with the one-liners. I think it's in the trailer where he's like, "Who wants barbecue?" It was cool to watch him do those action one-liners. He just has that stillness and that conviction in saying those lines."
How do you think Bruce Willis would describe working with you?
"I don't know. It's a good question. I don't know, just a kid probably, a young, excited kid."
Were you all starry-eyed and excited?
"I was very, very excited and very passionate about what was going on. We were pretty rushed, and there was a lot going on at once, so I was very much invested in the story, and how we figure it out. It was like a puzzle, and I was really excited about doing it."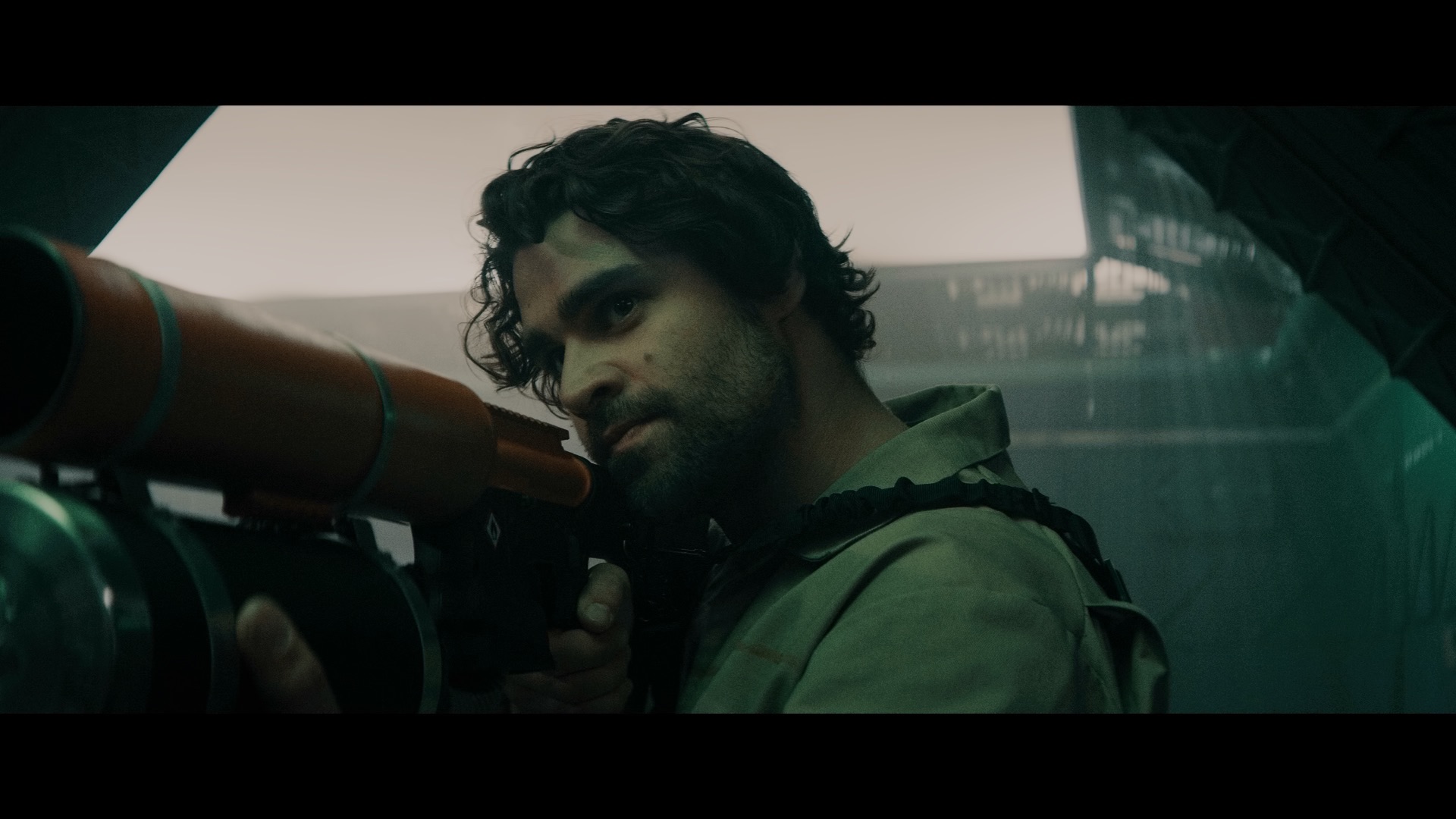 Cool. What scene was the most enjoyable to film for you?
"My favorite scenes were the ones with Kassandra [Clementi] who plays my partner in the film. Those were the most grounding, and to me, felt like the heart of the story, or at least for my character."
What kind of movies do you like to watch?
"It changes all the time but I generally like slow-burn dramas, character studies or biopics, period pieces, these kinds of things. Something that dives really deep into the psychology of the character."
If they did a blooper reel of BREACH, what kind of stuff would be on it?
"Oh, man. There was one funny clip. We were running down the hallways away from some aliens. It was a line of us, and Bruce was at the back. We start running in the hallway, and when we get to the end, the director yells, "Cut!" We look around, and Bruce had found this little army helmet. I don't even know where he found it. It was like a child's army helmet that was on his head. It looked absolutely ridiculous. So, we had to reset. It was really funny."
If you were in charge and this earth wasn't doing so well, but we did have a new earth to go to, how would you decide who gets to go to New Earth first?
"Oh God. For the first trip, I'd probably send the scientists, people that go and test out the new place and monitor it, make sure everything is available and make sure how we can start growing resources and setting up a healthy landscape for us to live in. I think that's probably the best before we start sending people there. So, the sense is that people will lay the groundwork to make sure it's all good and safe."
And then, when you're sending the population, how do you decide who gets to go first?
"I don't know if I can answer that. I don't want to answer that. I don't want that responsibility."
Well, nobody wants that responsibility.
"Yeah."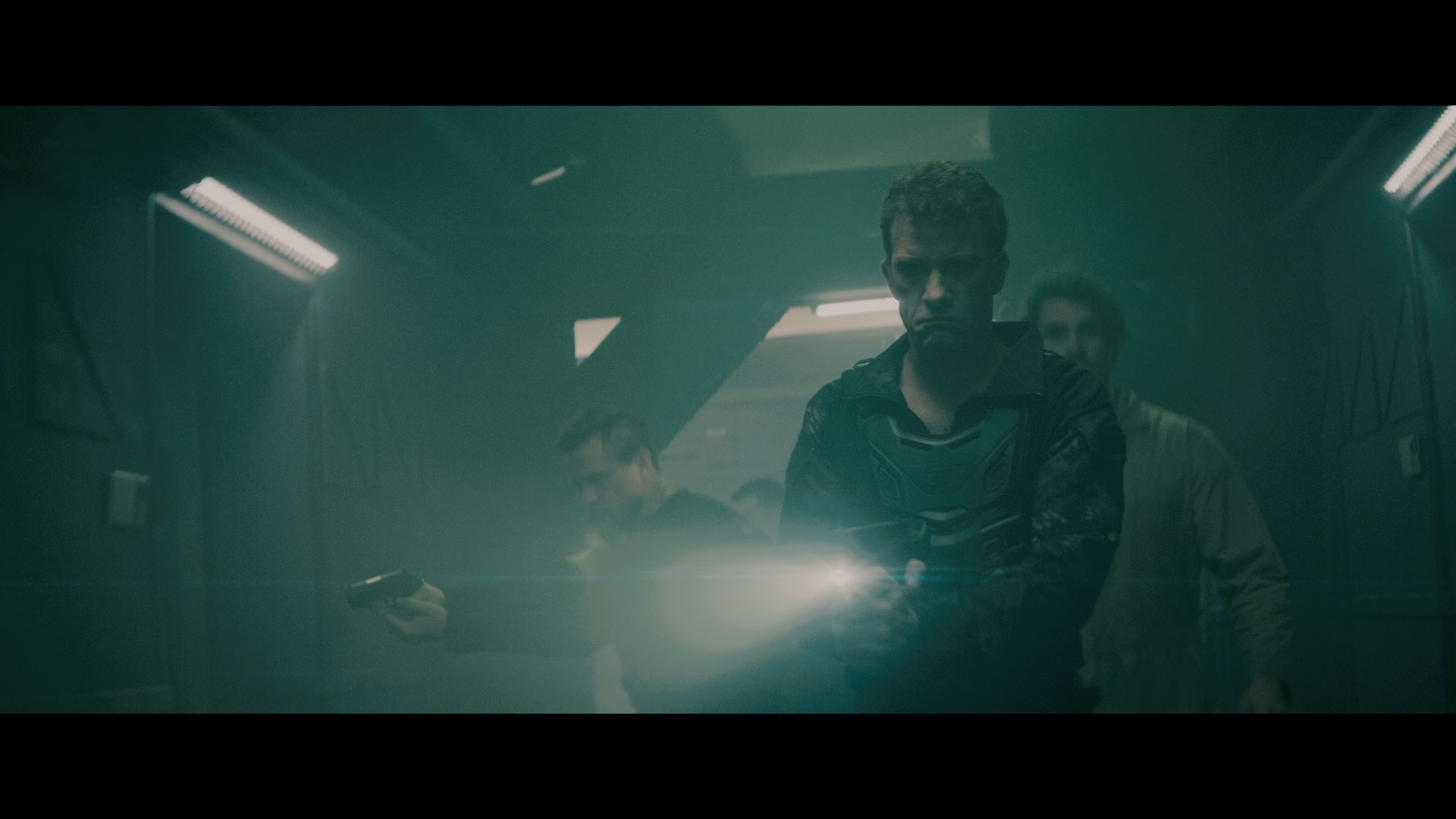 Okay. Here's a less daunting one. If Elon Musk gets SpaceX working and offers tourist-flights to outer space, would you want to go? Why or why not?
"I'd absolutely want to go and just check out. I wouldn't want to move somewhere else. I'd like to stay here. I think there's a lot of work to be done on our own planet, learn how to take care of what we already have. I'd like to be part of the group that's working towards improving our own environment and climate and fixing the home that we have.
Do you take on a lot of causes like that?
"I do. Yeah. I'm a vegan, and I'm trying to get more into activism about the environment and animal rights and all those kinds of things."
That's good. And you're from Canada, correct?
"I am. Yeah. Vancouver."
Where do you live now?
"I'm in Vancouver. So, I'm in my home base right now."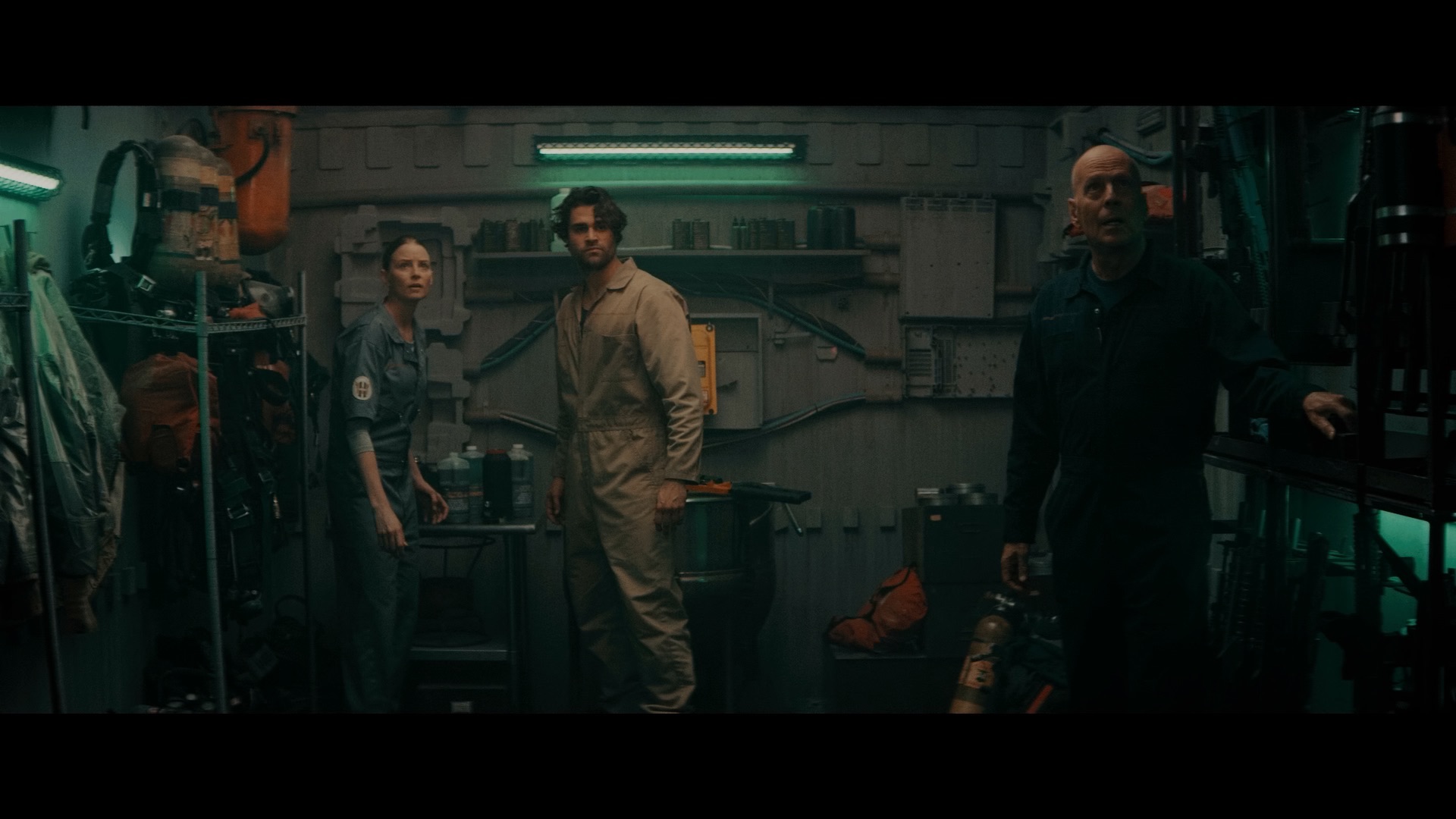 I was reading an interesting article about how the UK and the US celebrate Christmas differently, and it got me wondering; does Canada celebrate Christmas differently? Do you have any different traditions than Americans that you know of?
"No, I think North America is pretty similar. I don't think there's much difference. Our Thanksgiving is different, but our Christmas is pretty on par."
I didn't even realize you guys did Thanksgiving
"Yeah. We have it a different day. I don't really celebrate it, but Canada does all those celebrations. It's just different months."
For this year, are you doing anything special for Christmas?
"I don't think so. My family lives a little bit away, and we're not supposed to really travel right now because of COVID. I'm in the city, so I might stay around here. I also do some volunteer work, volunteer at some places for people who can't go home.
That's really nice. So, what's the best Christmas gift you've ever received?
"Best Christmas gift I've ever received? I think it was just the fun gifts I used to get as a kid from my mom. We would always get a board game every year or like a puzzle or something like that. It'd be those kinds of gifts that we get the family together and play a game together.
Cool. So, do you like family games and stuff like that?
"Yeah. I really like Cranium. Have you ever played it?"
I keep hearing about it, but I've never played it. No.
"It's good. It's like Charades and Pictionary and trivia combined in one."
That sounds like a lot of fun. Would you say you'd rather give than receive for around the holidays?
"I'm more of a giver."
How did you get into acting initially?
"I grew up performing. I did a lot of dancing and music and summer plays as a kid, and I did plays throughout high school. I never really took acting seriously until I went to theater school when I was eighteen in Los Angeles, and that's where I really dove into the craft and the technique of acting and really became passionate about it."
Who would be your dream director to work with?
"Alejandro González Iñárritu, I'd love to work with him. Scorsese, Paul Thomas Anderson. Yeah. Those guys."
What kind of hobbies do you have outside of acting?
"I have a theater company in Vancouver, so I surround myself a lot with storytelling, in general. When I'm not filming, I'm usually producing plays, writing, reading plays, or directing. Outside of entertainment, I'm pretty active so I like the gym and yoga. We're in Vancouver, so there's a lot of beautiful hiking trails. I also like hanging out with friends."
What kind of stuff do you write?
"It's usually just something will just spark my interest, some sort of concept or philosophical question or a circumstance for someone to be in. I don't really have a specific thing that I write. It's just whatever I get inspired by."
Are you doing more writing with quarantine, or what are you doing during quarantine?
"Yeah. I try to produce a bit of online theater with a theater company. We did one night of three one-acts that were done over Zoom, which was really fun. Other than that, I've been writing on my own. I'm writing a short film and a feature now that I'm hoping to direct next year."
Nice. Are you planning on starring in them as well?
"Probably not. No."
No?
"I've done the writing, directing, acting, and producing for a year and it's just, it's so much. You're wearing so many hats. I like to wear less hats and focus my energy into one area."
Yeah. That makes sense.
Check out Cody Kearsley, along with Bruce Willis, Rachel Nichols, and Thomas Jane, in BREACH, available Friday, December 18.