Hey folks, Harry here with... NEAR THE END of Mysterio's fantastic set reports from throughout the entire shoot of Kevin Smith's JAY AND SILENT BOB STRIKE BACK... What will we be without them... without Jay's phrase of the week? Will we be complete? Can we move forward in life without the knowledge that this great muse of the world bestows upon us lowly dogs... Now dive back into the whole thingee....
'JAY and SILENT BOB STRIKE BACK' – On-Set Production Report
WEEK TEN: PART I of II
As many of you are aware of, Jay and Silent Bob have indeed, sadly left the celluloid world. Principal photography began unofficially on January 13th in L.A. and suitably ended out where it all began on Monday, April 3rd at 12:07am (EST), in New Jersey. The final wrap party was held just this past Saturday night in Beverly Hills closing out the View Askewniverse, in class and style. The film came in $850,000 under budget (as Kev previously reported on the VA board), even by going over schedule by just one day.
Many of you locals converged on scene to show your support, sometimes in mass (much to the cast and crew's amazement), relishing in the opportunity to take pictures and get autographs. You've also shared your tales and experiences on set for those days at sites like AICN, News Askew and View Askew and got a little taste of what a joy it's been for me in following this thing from the get go. But after the initial excitement wears thin, being on a film set can, and is, for the most part generally boring, which made these reports (aside from being "spoiler-fee") even more challenging.
So while one chapter closes, another one opens as the production now immediately moves into post, with Kev currently trying to cut a net-exclusive trailer at the same time he and Scott continue to feverishly edit the film into a rough cut suitable for possible test screenings as early as next month.
So this thing's pretty tight on schedule, and an August 10th release date seems more, day by day, closer to becoming a reality. Just hang in there a while longer, it'll be here before you know it and you'll see for yourself why Kev, myself & Harry chose to go this route, much to the dismay of several of you. But like Mick and The Stones say, "You can't always get what you want, but if you try sometimes, you just might find, you get what you need."
Until then, let's get to wrapping up PART I OF II, for the last and final week of production out here in L.A.
Tuesday, March 20th through Thursday, March 22rd, 2001.
"FROM THE STAR WARS UNIVERSE TO THE VIEW ASKEWNIVERSE" – Tuesday, Day 42
As Mark Hamill was the first to fall under the hypnotic spell of Silent Bob's Jedi mind trick, Carrie Fisher was soon to follow.
But ironically the mind trick by Bob did not work on her. No, the force was strong with her, too strong for Bob to render her under by means of his own powers, so he motioned to his hetero-lifemate, Jay for assistance. Busting out a few smooth moves and choice words, Carrie quickly succumbed to Jay's own mind altering powers and was now on board, nearly completing the original circle, sans one Harrison Ford.
It's this very day, on a gorgeous Tuesday afternoon somewhere in Thousand Oaks, that I catch my very first glimpse of Carrie Fisher. My first reaction upon seeing her is that after meeting Luke himself, she'd be the one that would be "a little short for a stormtrooper." She keeps a rather reserved, quiet, moment by herself, as she paces about, her lips moving only slightly as she rehearses her character's dialogue to herself. Within minutes she gets the call to location, where she's to act out her scene opposite Jay and Bob.
In an interview, she recently revealed the character she plays in the film. If you'd rather not know, just skip down the blank portion of text and keep reading, but for those who do, just swipe the hidden text to reveal the spoiler.













When they return back to base, I catch Jay and Carrie walking and talking in the distance together, standing in an open field area. They speak privately, almost intimately together, seemingly enjoying one another's company. From my time on set, Jay was the one that seemingly made a "connection" of sorts with Carrie outside shooting scenes. Must be that Mewes' magic.
From her 6am call time, Carrie wraps and quietly heads out around 3:30pm, while Kev moves to quickly grab a few other shots before sundown.
Gotcha! So how many times did you try swiping that text? It's still a "spoiler free" column here kids, like I said since Day 1 if you've been following, BUT if you REALLY, I mean REALLY want to know her role in the flick, and don't already know, then head on by News Askew.com to find out.
Earlier that same day, Seann William Scott completed his stuff, shooting a brief piece, which had him wrapped up quickly in just a few hours.
"THE RETURN OF SHANNON, BRIAN, and ALANIS" – Wednesday, Day 43
Within minutes of arriving on Stage 19 do I find myself helping Scott wrangle a renegade baby orangutan, named "Bam-Bam" from running amok around the video village.
And let me tell you, baby orangutans are a handful, as they grab and hold onto anything in sight and are pretty damn strong. Kev and others around watch and snicker as Scott and I struggle to pry "Bam-Bam's" grasp from cables and chairs and put him back into the arms of his on set trainers. Yeah, here's to TWO men and their monkey I say!
Today is one of those "heavy spoiler filled days" that haven't yet been leaked out but what little I can say about it is that it involved Shannon Doherty, returning to the View Askewniverse, nearly six years from the date.
After completing a take, Shannon strolls on over to pet "Bam-Bam" and view playback. She appears in good spirits and any indication of such "bad blood" or past arguments since those 'RAT' days not so long ago, are seemingly abandoned in working again today. During a lengthy set up, Shannon and Kev take the time to sit side by side and share a private conversation.
During the day, Judd Nelson stops by to greet Kev and chat with Shannon a bit, even though he's been wrapped for a few weeks.
Later Shannon brings in her 'CHARMED' co-star, Holly Marie Combs, to the set to meet Kev and Jay and watch as she finishes up shooting her scenes.
There's also another YET UNKNOWN cameo in here too, who I had an extensive talk with on set that I swear I'd just love to tell you all about, but revealing who that he/she might be would be too obvious to spoiling the scene. So dammit, I gotta keep mum about it until it gets out. Damn all these "top secret" surprises!
Dietrich Bader was also on hand today to finish out the last of his scenes, wrapping around the lunch hour.
Speaking of lunch, just after the break, Dante himself, Brian O'Halloran returns to shoot a small scene on stage, which has him looking like he's seriously about ready to give someone a piece of his mind. No joke.
It's basically a one shot deal that should be simple, but is one of those things that ends up taking like a dozen or so takes before completely satisfying Kev and the DP.
Brian looks extremely nervous and uncomfortable performing this particular scene, which has him restrained and tied down to a table, and even though he's great in each one of his takes, its his co-stars in the shot that keep him doing take after take.
Brian toughed it out like a true sport and came out of the thing unharmed and unscathed, giving hilarious results each and every time. Though only one will make it in the film (if in the final cut at all), hopefully the alternates of this will make way onto the DVD because they had me and everyone else, laughing hysterically out loud.
Moving out onto Stage 11, camera and lighting crews are setting up for Alanis Morissette's scene in the flick.
As I watch on set as they rigged everything in place and wait for Alanis to arrive, wouldn't ya know, the good 'ole evil professor himself rings me up on my cell. He coyly hints to know a spoiler from the set that no one outside yet knows. I remain rather tight-lipped with him on just what that spoiler could be as he continues toying with me. He soon senses my resistance to break and spill details from the set even to him and finally confesses his knowledge to me, which surprisingly is accurate. But I warn him that if he talks, Kev and I will send Jay and a particular Jedi master to the labs to kick some serious "snoochie bootchie" ass! He realizes that in fact even Mongo would be no match for a Jedi master let alone Jay.
As Moriarty tries to make some feeble backhanded remark, something to the effect of "bring it on bubbleboy", I tell him I have no time for his amateurish games, as Alanis just arrived and I've got to get back to bigger business at hand.
Just before Alanis arrives, Tracy Morgan stopped by to chat briefly with Kev about his part, which shoots tomorrow down in Hollywood. As Tracy walks by me he looks pumped and excited by his conversation with Kev, and even more so as Kev shouts out to him, "Tracy remember… come ready to PLAY!" As play he will.
5:45 pm – Alanis arrives on set, with her grand parents in tow as she meets and greets Scott, Kev, Jen and Malcolm. She's in her wardrobe and takes a seat on set to get her hair and make-up done while she happily continues to chat with them.
For one thing, all those I have met, have told me that she is absolutely one of the sweetest, kindest and generous people that you'll meet, and by means of a promise that Malcolm made to me earlier in introducing me to her, I'd have to agree. She's by no means the angry, always serious songwriter/musician, weighing years of teen angst upon her shoulders. She's full of fun and playful energy, and on set shows a side of her that I'm obvious privileged to see. Her sense of humor and pleasantness on set is obvious by her excitement to be back here, working once again with Kev, which is felt instantly upon meeting her, followed by her wide smile and comforting eyes.
From Kev's slight direction here, it's obvious he trusts Alanis to bring home the goods, and only offers up a few suggestions in her movements to compensate for the framing.
Completing the martini shot, Alanis wraps, bringing this long, eventful day to a close. And to Malcolm and Alanis go out a huge "THANK U".
"HOLLYWOOD SWINGIN'" – Thursday, Day 44
Tracy Morgan's scene's were scheduled to be shot in the early to mid-afternoon, but upon arriving on location, the crew realizes that the first scene planned will have to wait for the haze and overcast to burn off before they can shoot, so Tracy's scenes, consisting of mainly close-ups and medium shots are done to compensate until the afternoon burn off.
After a little juggling act with the schedule, the haze has burned off and the crew can now get the shots they need which include framing the famous 'HOLLYWOOD' sign into a shot that was previous covered up by the haze.
As they film some steadicam shots of Jay and Silent Bob's arrival into Hollywood, a gathering of fans have huddled together on the corner across the street to watch the arrival of their heroes. They stand, poised at attention, vying for any view they can get, posters and cameras clutched in their sweaty palms, staking out any opportunity at catching Kev or Jay.
Curious, as I've been on both sides of the fence here, I walk across the street to try and talk to some of these "fans" and learn just what makes them fans. I ask one guy how long he's been standing here and he tells me since 5am. "5am, that's a very long time. It's 4pm now," I say.
"Yeah", he says.
"So what is it that gets you out of bed and down here on a cold, dark corner in Hollywood at 5am?"
"To see Kevin Smith and Jay." He says.
"Any luck so far?"
He then shows me a signed video poster for 'SCREAM 3' to which I was tempted to rail him for in front of the other fans for not being a "true" fan as Kevin nor Jay's names are even on the poster (let alone it's a video poster), and that he could've at least walked up a block and grabbed a 'CLERKS' or 'DOGMA' poster or something. But 'SCREAM 3', c'mon? But in trying to talk to them, it's clear that they have zero interest in me whatsoever, as all their attention is focused on watching Jay and Silent Bob across the street.
I walk back across the street, just as a guy in a jeep drives up the street, shouting out "HEY SILENT BOB!" as he continues speeding past, disrupting the shot.
As the scene and day wrap minutes later, it's when I'm talking to Kev that the same guy shouting from the jeep walks on up to Kev to hand him a CD, asking him to listen to it. It's then I recognize him and say, "Hey, you're the 'HEY SILENT BOB' guy in the jeep!"
Since Kev was in the scene he didn't see the guy drive by (but heard him shout out), Kev then (offering me a sly smile) turns back to him and says, "Oh that was you?" The guy's head now hanging slightly as he realizes he's busted. "Not too cool to yell stuff in the middle of a shot like that" I say. "Yeah that was about $10,000 right there you just blew." Kev says to the guy, (now obviously feeling extremely guilty), then playfully easing up on him, says "don't worry about it" offers up a smile and takes his CD.
END OF PART I of II
CHECK BACK HERE FOR THE FINAL REPORT, WHICH WRAPS UP PRINCIPAL SHOOTING OUT HERE ON THE WEST COAST JUST BEFORE KEV AND CO. HEAD OUT TO WRAP THINGS UP COMPLETELY BACK IN JERSEY.
But until then, let me share a few more pics with you, courtesy of Kev, and shot at a mere 1 FPS (frame per second) by the film's very own DP, Jamie Anderson. Enjoy!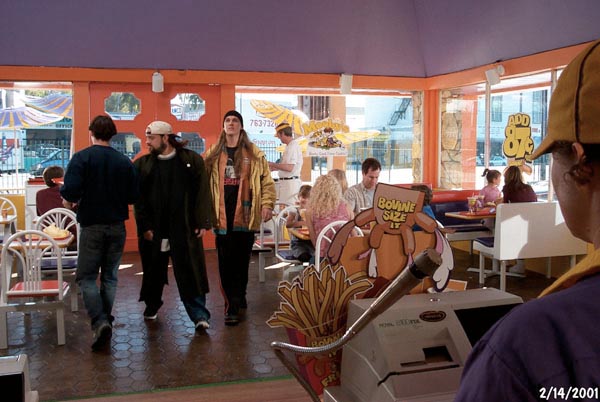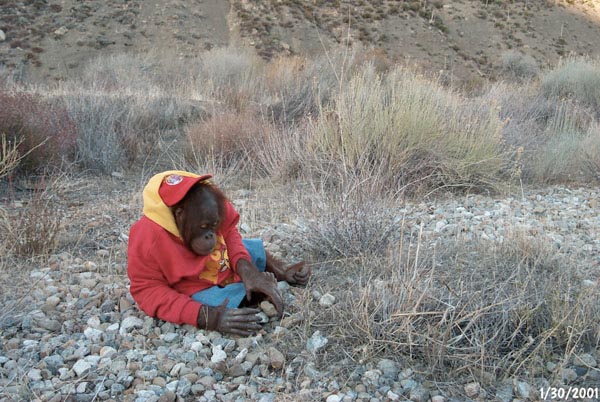 -Mysterio
If you want the secret to win Harry's heart, email me and I will provide you with the answer!!!