Greetings, citizens! ROBOGEEK here with a multi-update on the limited theatrical re-release of the restored and remastered SUPERMAN - which opens TODAY in San Antonio... where it must contend with the NCAA Basketball Finals this weekend (as well as the Oscars Sunday night on ABC, followed of course by Harry's appearance on POLITICALLY INCORRECT).
If you want to see a national theatrical re-release of SUPERMAN (and trust me, you do), now is the time to act. Get your ass to San Antonio and fill those seats! Recruit friends and family! Tell 'em it's for Truth, Justice, and the American Way!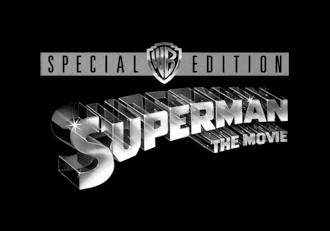 THEATERS & SHOWTIMES!
The re-release has apparently been expanded from the previously announced seven theaters to nine. Is this part of a nefarious conspiracy to combat the film's positive buzz and lower its per screen average? Or is it a good sign of Warners' faith in the film? You decide...
Regal Alamo Quarry 14
255 East Basse Road (in the Alamo Quarry Market)
(210) 333-3456 #267
Showtimes
: 12:25 pm, 4:00 pm, 7:00 pm, 1:00 am, 10:00 pm
Regal Century Plaza 8
1215 Grosvenor Blvd
(210) 333-3456
Showtimes
: 12:05 pm, 4:00 pm, 7:10 pm, 10:15 pm
Regal Galaxy 10
2938 NE Loop 410
(210) 333-3456
Showtimes
: 12:00 pm, 3:15 pm, 7:00 pm, 10:00 pm
AMC Huebner Oaks 24
Huebner Oaks Shopping Center
(210) 558-9988
Showtimes
: 1:00 pm, 4:00 pm, 7:00 pm, 9:50 pm
Regal Live Oak 18
7901 Pat Booker Rd
(210) 657-4480
Showtimes
: 12:30 pm, 4:25 pm, 7:25 pm, 10:25 pm
Regal Northwoods 14
17640 Henderson Pass
(210) 333-3456
Showtimes
: 12:55 pm, 4:00 pm, 7:05 pm, 10:00 pm
Regal Embassy 14
13707 Embassy Row
(210) 333-3456
Showtimes
: 1:00 pm, 4:00 pm, 7:05 pm, 10:00 pm
Regal Northwest 10
7600 I-10
(210) 333-3456
Showtimes
: 12:30 pm, 4:15 pm, 7:15 pm, 10:10 pm
Regal Cielo Vista 18
2828 Canyon Ridge Dr
(210) 680-7469
Showtimes
: 1:00 pm, 4:30 pm, 7:25 pm, 10:30 pm
INTERVIEW WITH PRODUCER MICHAEL THAU COMING!
First off, Thursday evening I had the chance to interview producer Michael Thau... for 90 minutes.
We covered a lot of territory, and I'm still in the process of transcribing and editing the interview. It will be published - in multiple parts - over the course of the weekend (I hope). I think you'll find it fascinating. (Thau not only can take credit for the condom commercial in LETHAL WEAPON 2, but is also the proud owner of a new Titanium PowerBook G4. Bastard... Kidding! Bygones.)
REPORTS OF THE RE-RELEASE'S DEMISE GREATLY EXAGGERATED
Several readers wrote in about an erroneous report (claiming that Warners had scrapped plans for a full theatrical re-release) which appeared Wednesday on three of my favorite web sites - iMDB.com and ShowBizData.com after originating on DigitalMediaFX.com - the latter two of which yesterday issued corrections (in part prompted by a letter yours truly sent their respective editors).
Just to clarify (and recap), Warner Bros. never planned an outright nationwide theatrical re-release of the newly restored/remastered SUPERMAN, but is test marketing it in San Antonio, TX this weekend. Pending its performance there, Warners will determine whether or not to roll the film out nationwide. (It bears noting that this is almost exactly the same strategy Warners employed last year with its re-release of THE EXORCIST, which grossed $40 million.)
Also, DVDfile.com Tuesday confirmed (after speaking to a representative) that Warner Home Video HAS NOT officially announced the release date for the DVD, and that the May 1st date is strictly tentative, pending the performance of the limited re-release in San Antonio. (FYI, producer Michael Thau has told me the same thing.)
Granted, Warners has done some pretty stupid things in their recent history, but even they aren't dumb enough to ignore this basic fact: SUPERMAN's original domestic gross was $134 million, which - adjusted for inflation - translates to over $250 million in today's dollars... a figure only five films in the last five years have topped (TITANIC, STAR WARS: EPISODE I, INDEPENDENCE DAY, THE SIXTH SENSE, and HOW THE GRINCH STOLE CHRISTMAS). (According to Mr. Showbiz.)
RE-RELEASE & DVD TO SUPPORT CHRISTOPHER REEVE FOUNDATION?
There has been tremendous response supporting my suggestion that Warners donate a portion of ticket and DVD sales to the Christopher Reeve Paralysis Foundation.
In light of this, I am happy to report that there has apparently been some positive discussion about this at Warners - not only because of the potential publicity (and tax) benefits, but because it's a fitting way to pay tribute to a man who has come to manifest the heroic ideals that Superman represents.
To those of you who don't know what it is, the Christopher Reeve Paralysis Foundation (CRPF) encourages and supports research to develop effective treatments and a cure for paralysis caused by spinal cord injury and other central nervous system disorders. CRPF evaluates and selects these research programs using councils of internationally renowned neuroscientists and clinicians. CRPF also allocates a portion of its resources to grants that improve the quality of life for people with disabilities.
(If you'd like to add your support to this idea - and the national theatrical re-release - it probably wouldn't hurt to drop a line to the Donner Company at the address below.)
WIN AN ORIGINAL ONE-SHEET POSTER SIGNED BY DONNER!
The good folks at IGN FilmForce tipped us off this week about a contest sponsored by the Donner Company. One lucky movie-goer who attends the SUPERMAN re-release in San Antonio this Friday or Saturday will win an original SUPERMAN one-sheet from 1978 signed by director Richard Donner.
To enter, staple your ticket stub (from any SUPERMAN screening today or tomorrow only) to a 3" x 5" index card with your name, address and phone number, and mail it to...
ATTN: Geoff Johns
c/o Warner Bros
4000 Warner Blvd.
Bldg 102
Burbank, CA 91522
SUPERMAN FAN GATHERING IN SAN ANTONIO!
Finally, locals as well as those making the road trip into San Antonio this weekend should be apprised of the get-together organized by fans Tim Gardner and Jim Bowers, which takes place 6pm tomorrow (Sat. 3/24) at the Holiday Inn Express Hotel on Hwy 281-N (210-402-3300).
It's sponsored by SupermanCollectors.com (which will be raffling Superman memorabilia), and the $5 admission gets you pizza and drinks. More information can be found at this link.
GO SEE SUPERMAN IN SAN ANTONIO THIS WEEKEND!
P.S.: In case you missed it, you can read my 3/20 review of SUPERMAN at this link, and my original 3/6 story about the San Antonio re-release at this link.