Afternoon, geeks!
We got a double whammy of reboot nostalgia today! Isn't everything you asked for?!
First up, we the first image from SHE-RA AND THE PRINCESSES OF POWER that surfaced, a poster!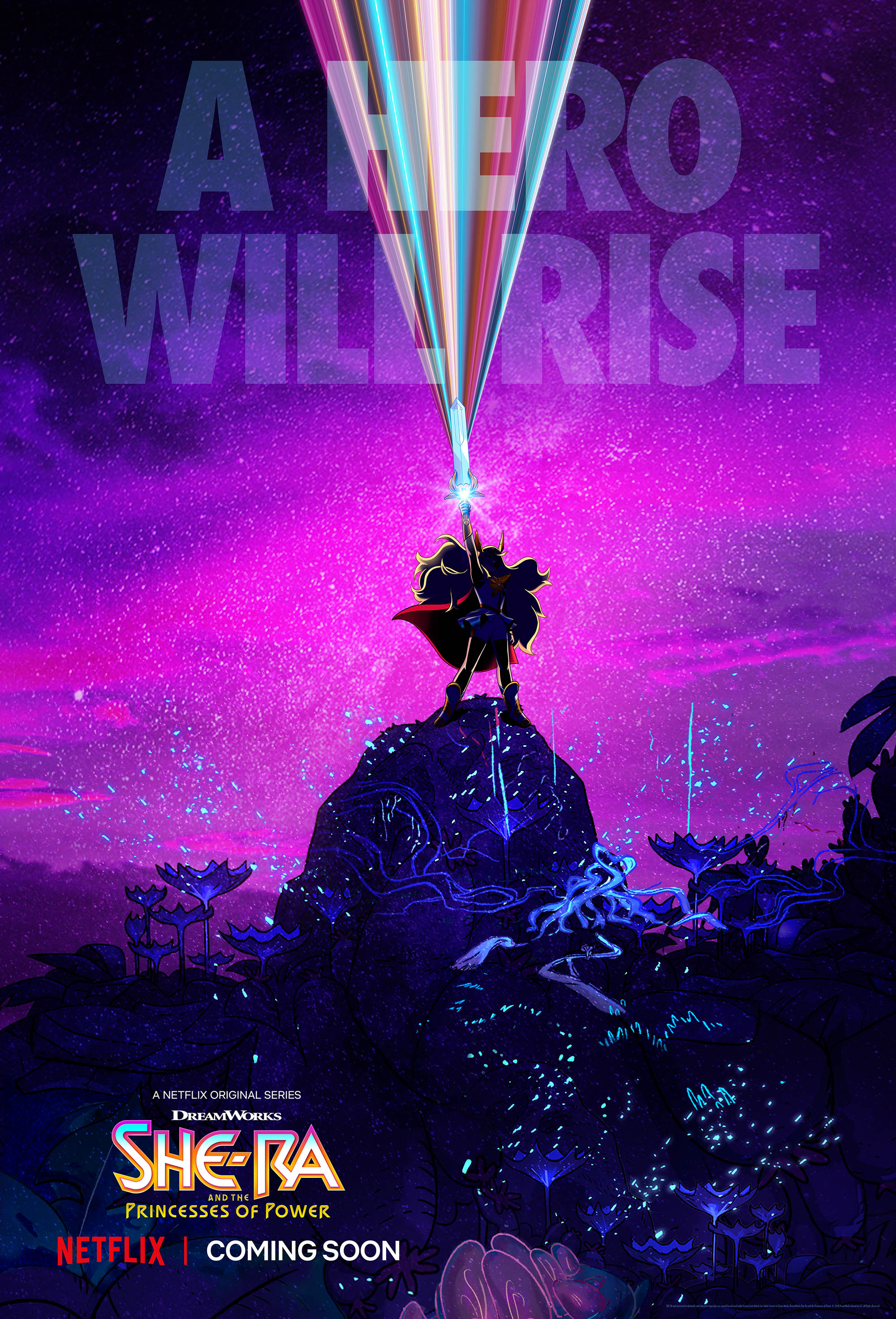 So far, this isn't anything too enraging. This poster captures the magic and color of the original, but until a more detailed image of character art is revealed, we shouldn't let ourselves get too riled up. From what I can see, they tweaked her costume a bit. Instead of a skirts, she's wearing skorts (skirt with shorts underneath as one piece of clothing). The hidden face is almost as painful as that poster reveal of LEGEND OF KORRA, when they showed only her back. I will admit, it made for a pretty good meme there as people were speculating what Korra's face looked like in art.
The new SHE-RA twitter page also posted a photo of their cast! Is it just me, or does this pic look 90s as heck?
The cast of DreamWorks #SheRa and the Princesses of Power with executive producer Noelle Stevenson. Photo Credit: Stefanie Keenan pic.twitter.com/puY3cVHDs7

— She-Ra and the Princesses of Power (@DreamWorksSheRa) May 18, 2018
She-Ra has a rather big voice cast so far. Aimee Carrero (ELENA OF AVALOR) as Adora/She-Ra, Jordan Fisher (DANCING WITH THE STARS) as Seahawk, Marcus Scribner (BLACK-ISH) as Bow, Lorraine Toussaint (ORANGE IS THE NEW BLACK) as Shadow Weaver, Sandra Oh (GREY'S ANATOMY) as Castaspella, Karen Fukuhara (SUICIDE SQUAD) as Glimmer, AJ Michalka as Catra, Reshma Shetty as Angella, Keston John as Hordak, Lauren Ash as Scorpia, Christine Woods as Entrapta, Genesis Rodriguez as Perfuma, Vella Lovell as Mermista, Merit Leighton as Frosta, and Krystal Joy Brown as Netossa.
SHE-RA AND THE PRINCESSES OF POWER will be out later this year on Netflix!
---
Speaking getting enraged, this may serve you up a hot cup of fury: THUNDERCATS: ROAR! Yes, after the 2010 reboot failed (I actually kind of liked it), Cartoon Network decided to try again by using the same style that has brought them success before with TEEN TITANS GO! Here's a look at some of the art and behind the scenes.
I'm pretty sure everything that's wrong with the new THUNDERCATS, this guy's topknot is the source of it all. We must destroy it. Ah…kidding. The animation looks pretty darn fun, and the show itself high energy. It might be tolerable if you can forget about its origins, honestly.
Some more official info about the show:
"Staying true to the premise of the original series, Lion-O and the ThunderCats — Tygra, Panthro, Cheetara, Wilykat, and Wilykit — barely escape the sudden destruction of their home world, Thundera, only to crash land on the mysterious and exotic planet of Third Earth. Lion-O, the newly appointed Lord of the ThunderCats, attempts to lead the team as they make this planet their new home. A bizarre host of creatures and villains stand in their way, including the evil Mumm-Ra, Third Earth's wicked ruler who will let nothing, including the ThunderCats, stop his tyrannical reign over the planet."
You can expect to see it in 2019.
~Big Eyes