Hello all, Mad Dashiell here and thanks for joining me today. Today we look at Vincent Castiglia, a unique artist that works in blood.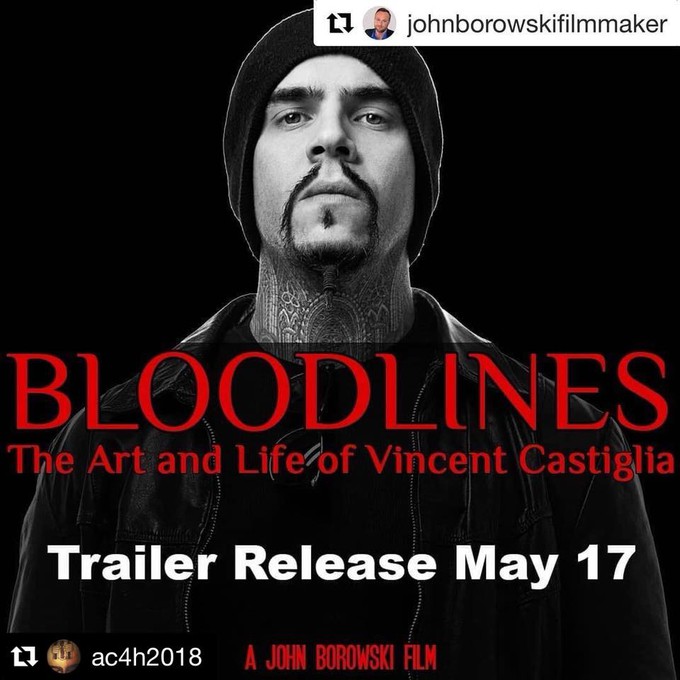 The film is directed by the award-winning independent filmmaker John Borowski. Let's take a look at the visionary artist's scarlet gospel and let the blood sent out from the same humble film speak for itself-
"Today the trailer for Bloodlines was released. This project was a whirlwind of epic proportions (in terms of the material contained within, which had only ever been processed through my art prior). The first cut was so extreme/explicit, I wouldn't have survived the release of this film. Having found a delicate balance within the material, the final result (still very heavy for me to watch) I believe respects all parties, living and dead, and is still only a minute glimpse into the circumstances that shaped my existence. Art has been my 'salvation' in the most literal sense. By sincerely submitting mind and body to the surfaces (canvases) I work on, portraying with brutal honesty what was happening inside, a string of what I regard as 'eternal truths' were unearthed, and an entirely transformative process began. Through the imagery, I posed questions (rooted in reality and my own existence), and received the 'answers' sought via the art's individual existence. It began as art therapy at its most fatalistic, severest wrung, it's only aim being a distraction and coping. But with just a lifetime of persistence, and a commitment to authenticity (no matter how horrific or repellant that authenticity may have looked to viewers at any given time) the work's become the guiding force of my life, and quite literally my progeny (and flesh of my flesh), which I trust in with all my heart, above all else. It's what I suppose Buddhists term "dharma", or mystics might call "true will". And for a project which began as a documentary about my artwork and life, in the end, it may actually serve a higher purpose entirely (a message of hope for those who need it most). That's my sincerest wish anyway. The most heartfelt thanks to all involved, who've supported and truly been there, and an even greater thanks to all that haven't, who've tried with all their might (overtly and covertly) to tear down, spread lies, and try to destroy me every step of the way - you've helped make me and my relationships stronger (impenetrable), and simply put - helped sort out the 'trash'. Much respect and many thanks to all, the gods, and the garbagemen. #bloodlines" -Vincent Castiglia
"After two months, and the blood of my client as well as my own, "The Acceptance of Death" is complete - commissioned painting for a professor of Medicine at University of Indiana, and 4th painting in the current body of work, 'Autopsy of The Soul'."- VC
-The man's work has been honored next to Giger, presented at The Outsider Art Fair, and the De Domo Diaboli exhibition. Thanks for joining me today, Mad Dashiell signing off.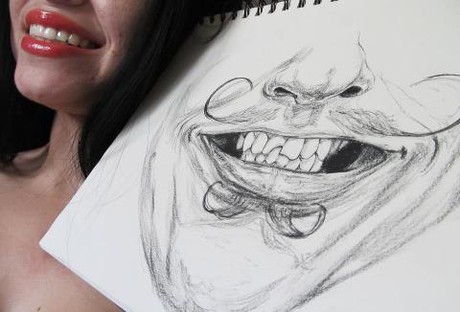 Art Credit:
Dulce Brassea