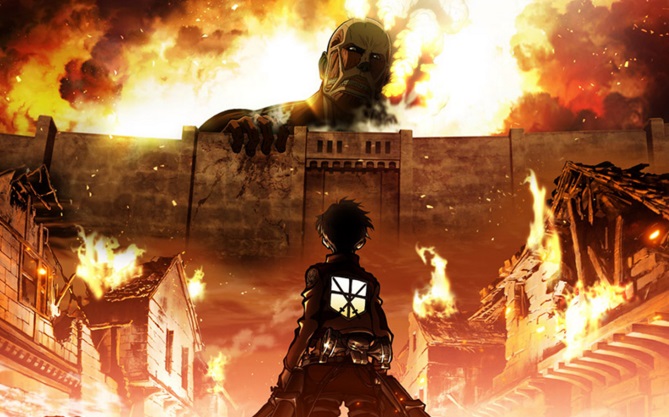 Afternoon, geeks and weebs!
Apparently I need to get back on the ATTACK ON TITAN train, because Season 3 is already happening! I was watching the first season when it first came out, week by week, but they started to trail off on a DRAGON BALL Z filler sort of trend, where five minutes became a full episode. Everyone knows it only takes one Saiyan to change a lightbulb, but it'll take five episodes for it to happen!
ATTACK ON TITAN is an anime about the last of humankind who have built a city with several walls surrounding it in rings, as defense against giant naked humanoid creatures known as Titans who eat people! After an attack that leaves the most outer ring collapsed, Eren and his childhood friends join the military to help take down the Titans once and for all, but along the way, they discover the shocking truths about the Titans.
This show became a hugely popular phenomenon in Japan after just one season. There has already been a live action movie, and attractions at Universal Studios Japan. However, due to a shortage of animators, it took a whole four years to get Season 2! There is actually an overproduction of anime happening right now, that is why so many of the newer shows are so terrible!
Check out the trailer for Season 3!
ATTACK ON TITAN Season 3 will be released on the NHK network July 22! It will also becoming to the American streaming service of FunimationNOW in July 2018!
~Big Eyes