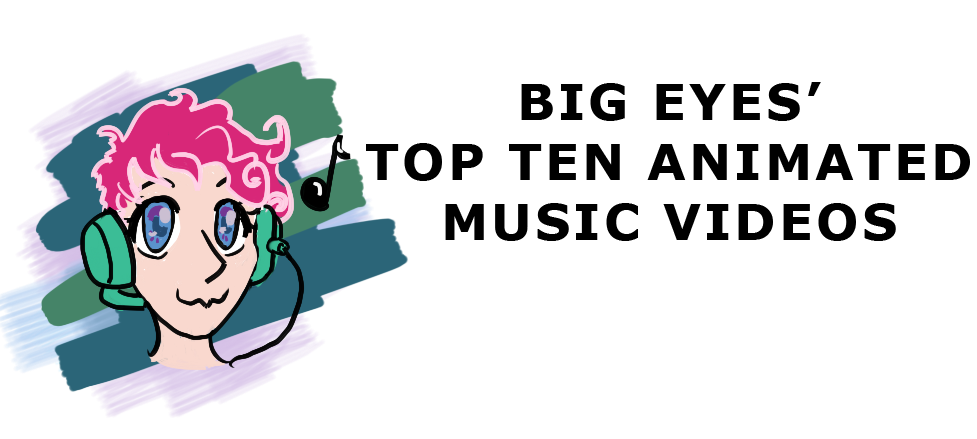 Heya geeks!
It's going to be a beautiful weekend, let's start it off right with some good music and good animation! I've compiled a list of some of my favorite animated music videos because they deserve to be seen and discussed! So get out the good speakers, and maybe even a big screen to treat your eyes and ears to a delightful time for the senses. Some of these are weird, deep, visually appealing and/or all three!
I will be numbering my entries, but keep in mind it is impossible for me to really rank any better than the other because I love them all so much and they are all good for many different reasons. So let's get started!
10. "Welcome to Kitty City" by Cyriak
Cyriak produces some mind bending videos. They can even be described as "bizarre as shit", but his attention to detail and ability to catch you off guard and unable to predict what is going to happen is something to be noted.
9. "The Music Scene" by Blockhead
This video has some amazing psychedelic visuals you can't look away from. Traditionally animated, you can watch the building blocks of reality fall apart and blend back together into a flowing singularity while simultaneously making political and social commentary. "The Music Scene" is a great song, I honestly liked this video better when a fan had overlaid Muse's "Animals" over the visuals which seemed to somehow match the visuals even better than the song intended!
8. "Up on Melancholy Hill" by Gorillaz
Ya knew it was coming. Gorillaz has ton of great animated music videos. I particularly love the combination between CG and animation in this one. The song has always been a chill song upon of which I can get sentimental on the memories I have associated with it.
7. "Jenny" by Studio Killers
The video for "Jenny" is a perfect example of well designed minimalism. While the shapes are simple, the colors are rich and simple brushstrokes are used for shading and creating atmosphere. There are many modern animated TV shows that have just as much time put into them, but never could look this good.
6. "Boys Latin" by Panda Bear
Here's another one that's weird as heck, but deserves a watch and some discussion. A man/woman (hard to tell) wanders through the wilderness, and discovers what appears to be...a magic sea anemone butthole on the ground, and feels compelled to stick his/her arm into it. Some strange "disease" takes over as he/she panics, but after he/she keeps on going, eventually it becomes an accepted part of them. Later he/she discovers someone else who has stuck their hand in the magic sea anemone's butthole and helps them deal with their newfound burden as he/she has been through it. In the end, the magic sea anemone butthole provides the two of them a child. MAGIC SEA ANEMONE BUTTHOLE.
5. "Art3mis & Parzival" by GUNSHIP
Comics Chad got me into GUNSHIP right after we saw READY PLAYER ONE. I think this single 8-bit animated music video may have done the whole story better than the movie ever could. It follows the book a bit more closely, and we get to see Ultraman fight MechaGodzilla as intended instead of a Gundam...though I will admit seeing a live-action Gundam on the big screen was pretty sweet and I hope we get a Gundam movie out of that.
4. "Rasputin" - Boney M. - Video and Remix by Slightly Left of Center "Love the Way You Move"
The melody of the song will just hammer its way into your head, whether you are terrified of a nuclear war with Russia, or not. Slightly Left of Center dug this gem up from the disco era, and I am so glad they created this animation. Three scientists make it their life's work to create the funkiest shoes on the plant, but no one can handle that level of funk until Putin himself takes on the challenge.
3. "Take Me On" by a-ha
I'm sure most of you are familiar with this song, but the video for it is great. Not only is it a combination between live action and animation (moreso rotoscoping), they managed to make an odd sounding concept of having the shading fly all over the place. Which in theory would make it sound like it would look terrible, but they pulled it off! Even when not much is movie, it feels like there is so much action to every shot!
2. Metalocalypse: Doomstar Requiem - A Klok Opera
Alright, here I'm cheating because DOOMSTAR REQUIEM is an entire animated rock opera, but I couldn't just pick one song, so I picked one at random for the clip, but you guys should seriously check it out. Brendon Small is fairly multi talented in voice acting, singing, and playing music. Jack Black offers a singing voice for DOOMSTAR REQUIEM. It's really a shame that Part 2 is never going to happen and the story of METALOCALYPSE will never be finished.
1." Lone Digger" by Caravan Palace
I'd be lying if I said I didn't have a huge electro swing kick a few years back, and now I'm even looking to get back into swing dancing. "Lone Digger" will have you tapping your toes as you get to know these three tom cats that seem meek and innocent, but violence explodes in the club over some literally spilled milk. The only thing I would nitpick about this video is the lack of frames, but it is another example of great minimalism.
Honorable Mentions:
"Alice" by Pogo
Pogo is a very interesting DJ that takes sample sound clips from many different sources, much of it is old Disney animations, though. He strings together words from different clips to make new content, not only making the audio sound good, but the visuals flow together. At first it seems a bit jarring, but once you get into the groove of it you won't be able to get it out of your head. If you're a trekkie, you may also want to check out his "Data & Picard" video.
So what do you all think? Do you guys know any other awesome animated music videos that deserve to be on the list? Thanks for checking out my list you guys!
~Big Eyes