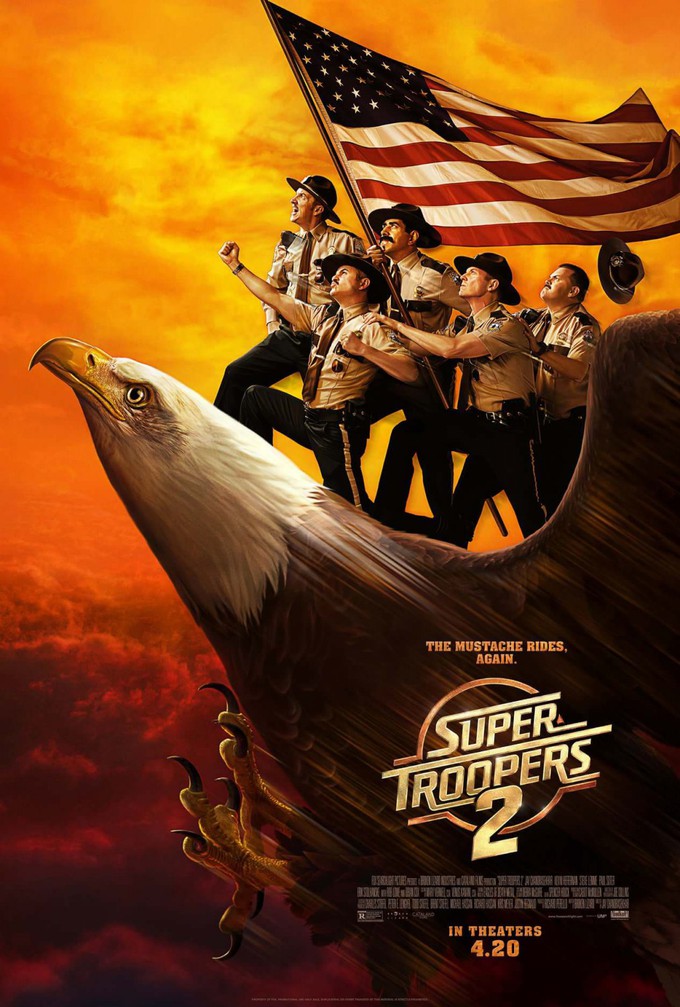 Hola Dannie aqui,
Last night I had the pleasure to attend a screening of SUPER TROOPERS 2 in North Austin, the theatre was absolutely packed with people and fellow press all awaiting elbow to elbow a raunchy drug filled hysterical cinematic escape. I knew walking into this flick it would either be something I would walk out loving or hating. I am happy to report SUPER TROOPERS 2 was not only a hit with me; the audience burst out loud with laughter throughout the film as well.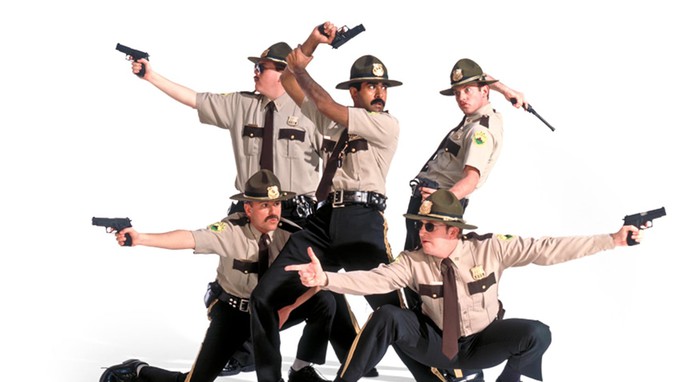 The beginning of the film catches us up with Officers Mac (Steve Lemme), Rabbit (Erik Stolhanske), Thorny (Jay Chandrasekhar), Foster (Paul Soter), Farva (Kevin Heffernan), and Captain O'Hagan (Brian Cox). The film starts off with a ridiculous bang featuring brief, but memorable cameos by Damon Wayans Jr. as Trooper Wagner and Seann William Scott (Stifler) as Trooper Callaghan. We find the Troopers no longer employed by the Vermont Police due to reasons I refuse to spoil! When Thorny first appears onscreen, his new job and lifestyle are just, well the best I can say is Thorny went a little Jerimiah Johnson, and it immediately brought a smile to my face. As luck would have it the boys are all given a second chance when border disputes lead to Vermont expanding its border into Canada. The Captain and boys jump at the chance to once again strut in uniform and help transition some Canadians into red-blooded Americans. The banter between the Mounties and Troopers is hellaciously funny on both sides as well as the candid cultural/political jokes. The Mounties were played by actors Hayes MacArthur (Mountie Podien), Tyler Labine (Mountie Bellefuille), and Will Sasso (Mountie Archambault). Boy, they were funny Ehhh. The Troopers have a very rough time with the local Canadians and are taken aback because well, they had only heard how incredibly nice and passive their Northern brothers were.
When faced with the fact they are being perceived as invaders and these Canadians are a lot tougher and better trickster's than expected, they stumble upon... DRUGS! Yes yet again the boys unintentionally discover another smugglin' baddie they are hell-bent on capturing and resecuring their footing in law enforcement. All of the troopers were painfully funny, Farva oh Farva how I love to loathe thee- Rabbit is still considered the rookie, poor little fella. Mac is still a wild man; Foster's still banging that female cop Ursula (Marisa Coughlan). Thorny went from a manly man to a hysterical hormonal mess, and yet kept his haphazard authority over his fellow troopers in check throughout his ch-ch-changes! Rob Lowe plays the part of Guy LeFranc the cocky hockey star turned mayor of the quaint Canadian town caught up in the disputed border hoopla. Overall, this film was a fun adult comedy that was a welcomed rib-tickling sequel to an original cult classic, and to be completely honest I believe it surpasses the original as far as the number of laughs. Super Troopers 2 is a helluva fun ride, anyone who loves the original will adore this sequel, and people that thought the original was blah or okay should give this one a chance as I believe it is a superior comedy in comparison to the first. For those of you that utterly hate the boys at Broken Lizard, this might not change your opinion, their comedies are not for everyone, but this one I believe is by far their best roll in the raunchy comedic realm that I know they thrive in. This will be a great 4/20 film for all in "high" society, and I hope the film does well. Thanks, Broken Lizard gang, the world needs laughs, y'all succeeded.
Stay Strong, Live Good, Love Movies!
Dannie aka Pekosa Peligrosa