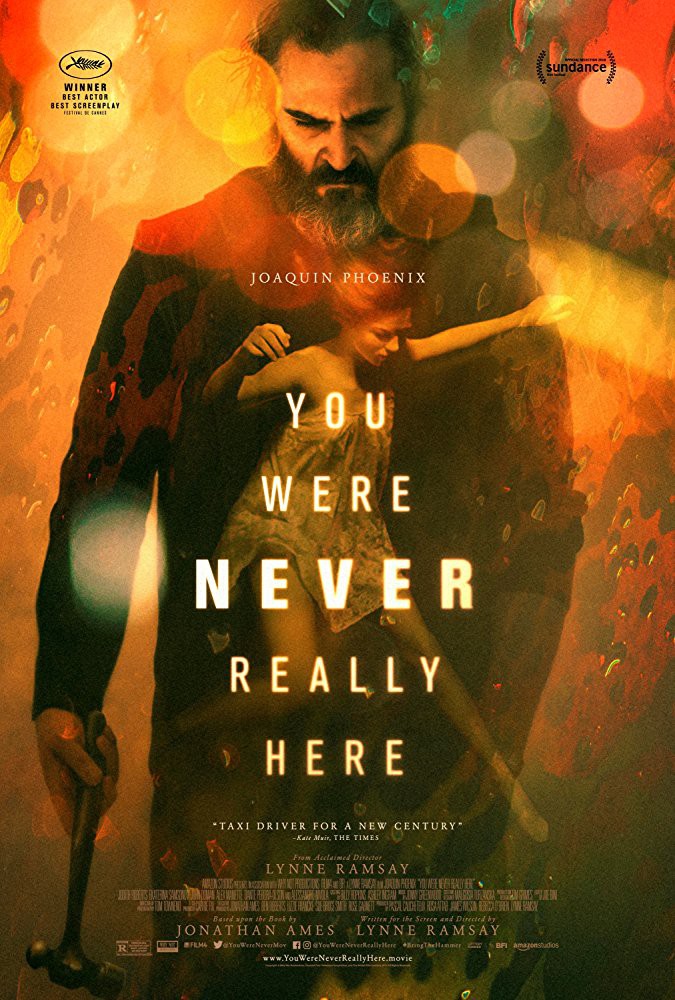 Wheels here with a review of the latest from Joaquin Phoenix and Lynne Ramsay,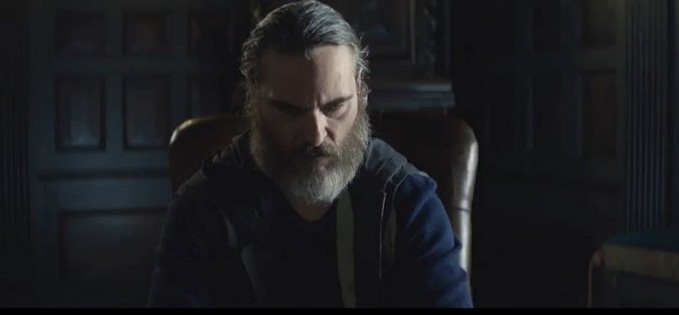 "Stand up straight! Stand up!"
These are the first words we hear from Joe, played by Joaquin Phoenix (INHERENT VICE). They come in the form of a mumbling narration overlaying an image of Joe hyperventilating into a plastic bag placed over his head. Joe removes the bag and quickly gathers up his belongings from the hotel room we find him in. These belongings include a bloody ball -peen hammer, zip ties, and a single photo of a young girl. He throws them in the hallway trash on his way out of the hotel; another mission completed.
You see, Joe makes a living tracking down kidnapping victims and runaways, reuniting them with their families if he can and hurting those responsible if he can't. Joe has near crippling PTSD and suicidal thoughts brought on from years of childhood abuse and trauma experienced later in his life as a soldier overseas. His only relief is his work, rescuing children, and taking care of his elderly mother, played by Judith Anna Roberts (ERASERHEAD). Joe is a broken man who wants to spare others from the same sad fate.
Joe's latest assignment comes from senator Albert Votto, played by Alex Manette (JANE GOT A GUN). Votto's daughter, Nina played by Ekaterina Samsonov (WONDERSTRUCK), has gone missing. Votto received a mysterious message with the address of a local brothel and he believes that his daughter is being held there and wants Joe to rescue her and punish the people who did this to her. Joe accepts and before long is caught in a violent labyrinth that could claim his life or what remains of his sanity before it is all over.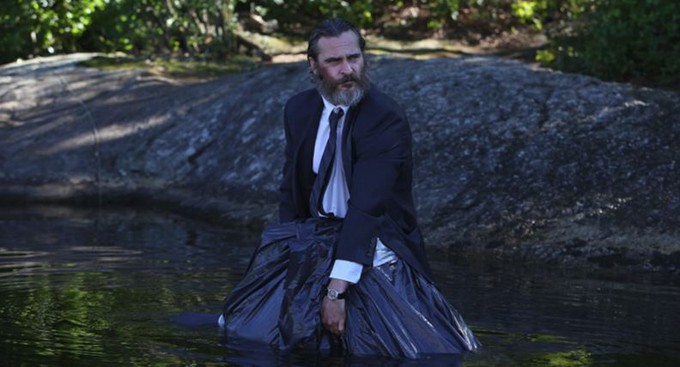 This is the set up for the new film from Lynne Ramsay (director of WE NEED TO TALK ABOUT KEVIN), YOU WERE NEVER REALLY HERE. Ramsay has crafted what is essentially a showcase for the acting prowess of Joaquin Phoenix. The supporting cast is minimal in this gripping thriller (based on a novella by Jonathan Aames). Phoenix plays Joe as a wounded animal traipsing through the dark night, all burley muscle and a mountain-man beard trying to distract from his sorrow-filled eyes. He is a force of nature where you are never quite sure if he'll explode into violence or break down crying from moment to moment. It's a brave and transformative performance from Phoenix and when he is on the screen, which is almost all of the film, you won't want to take your eyes off of him.
Phoenix's darkness is anchored by the damaged innocence of Samsonov's portrayal of Nina. She is a beacon of light in this grim affair, her radiance shining past the obvious trauma she has endured. It's a beautiful, nuanced performance. Samsonov is definitely a young performer to keep an eye on.
Joe and Nina, exist as a psychologically damaged "Lone Wolf & Cub", who are just trying to survive the bleak, violent world Ramsay has placed in front of them. Ramsay directs the film as if we are seeing everything as Joe would: everyone could be a threat or reminder of past hurt, every place offering only minimal comfort. All violence is over in a blink of an eye but the aftermath lingers as we are forced to accept the ugliness of it as the only legacy it leaves. There is beautiful imagery on display in the film but it is all tinged with the uneasiness that Joe carries with him. This is compounded by the driving score composed by Jonny Greenwood (RADIOHEAD). It is the sort of score that will set you on edge and stay with you as you think back on the moments of Joe and Nina's journey.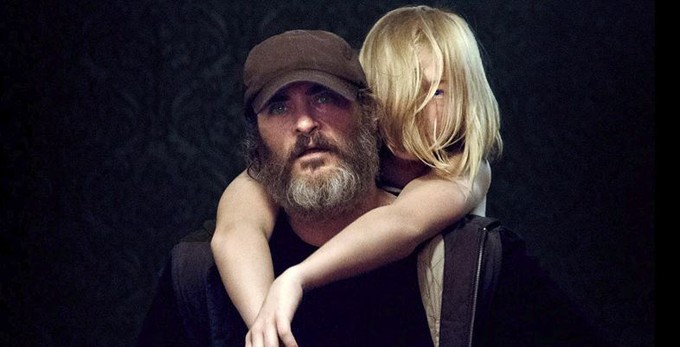 This is a challenging film. Looking past the obviously dark and violent subject matter, the film does little to help the viewer along. Scenes play out with the barest amount of dialogue possible, relying on Ramsay's haunting imagery to carry the narrative. This leaves the viewer feeling as alien to the world as Joe and Nina feel. YOU WERE NEVER REALLY HERE is a deeply rewarding experience though; a haunting, thoughtful meditation on the strength required to stand up, move forward, and hope that tomorrow will be a more beautiful day than the one before.
YOU WERE NEVER REALLY HERE is in limited release in major markets right now.
It opens in wide release on April 20th.
Wheels out!