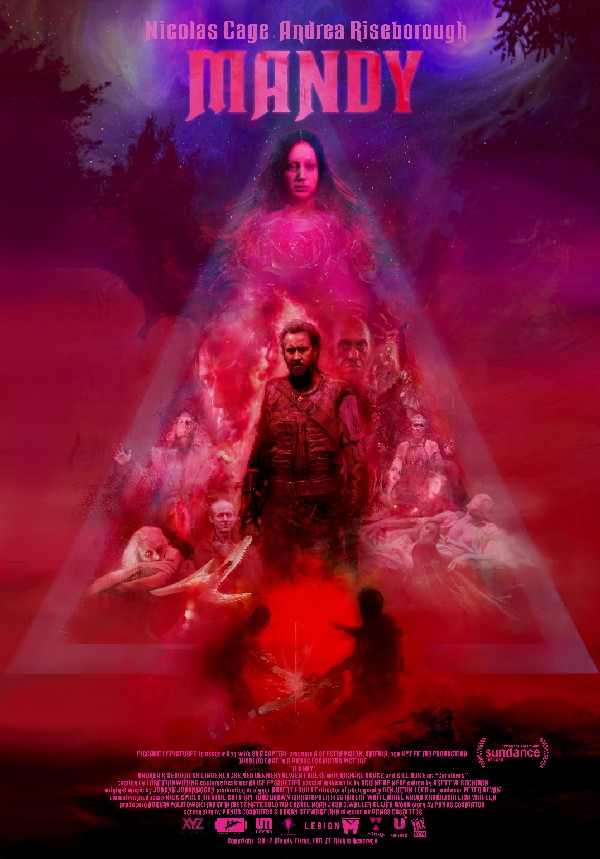 Wheels here with an update on the newest bit of crazy from Nicholas Cage,
MANDY, the newest film from Panos Cosmatos (director of Beyond the Black Rainbow) made a big splash at the most recent Sundance. The insane sounding premise is a revenge-seeking Nicholas Cage battles demonic, mutated bikers in a post-apocalyptic wasteland of 1983 A.D.
That concept set to a Black Metal score with Cosmatos's trippy visual style equals a movie I am dying to get my eyeballs on!
The buzz out of Sundance for this one makes it sound like none of us are ready for the craziness of this thing. Well, now we know that we'll be seeing it fairly soon. RLJE Films, the distribution company behind BRAWL IN CELLBLOCK 99 and the upcoming I KILL GIANTS, is prepping MANDY for a summer theatrical release.
Check out the official press release below!
Wheels out!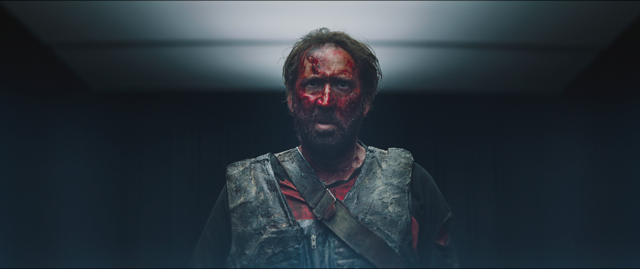 RLJE FILMS ACQUIRES

MANDY

Starring Academy Award-Winner Nicolas Cage

RLJE Films to Release in Theaters in Summer 2018

LOS ANGELES, March 8, 2018 – RLJE Films, a brand of RLJ Entertainment (NASDAQ: RLJE), has acquired all U.S. rights to the highly anticipated action-thriller MANDY, which premiered at the 2018 Sundance Film Festival to rave reviews.

Written and directed by Panos Cosmatos (Beyond the Black Rainbow), the film stars Academy Award-Winner Nicolas Cage (Leaving Las Vegas), Andrea Riseborough (Battle of the Sexes) and Linus Roache ("Vikings"). RLJE Films plans to release MANDY in theaters in Summer 2018 with an exclusive theatrical window.

"The best reviewed movie at Sundance is also one of Cage's most extraordinary performances, reinvigorating our love and appreciation of him," said Mark Ward, Chief Acquisitions Officer at RLJE Films. "Panos' is a truly visionary filmmaker and we are beyond excited to unleash MANDY to the masses."

In MANDY, outsiders Red Miller and Mandy Bloom lead a loving and peaceful existence. When their pine-scented haven is savagely destroyed by a cult led by the sadistic Jeremiah Sand, Red is catapulted into a phantasmagoric journey filled with bloody vengeance and laced with fire.

MANDY was produced by SpectreVision, XYZ Films, and Umedia. The project was financed by Umedia and Piccadilly Pictures with additional support from Wallimage. The score was composed by Johann Johannsson.

The film currently maintains a perfect 100% critic's score on Rotten Tomatoes.

Ward and Jess De Leo from RLJE negotiated the deal with Nate Bolotin from XYZ Films on behalf of the filmmakers.