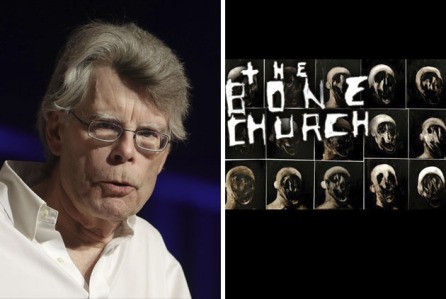 Chris Long and David Ayer's Cedar Park Entertainment acquired and will be developing Stephen King's THE BONE CHURCH into a TV series. The Bone Church is a narrative poem that King wrote in the 1960s. He later revised it and the poem was published as part of a King anthology, The Bazaar of Bad Dreams. The story is narrated by a bar patron that tells his tale to those that will buy his drinks. It is a high adventure of a deep expedition into a vast jungle to try and locate a mythical Bone Church. A secret is discovered that is not meant for the eyes of strangers. A handful of the 32 travelers barely escape with their lives.

Its good to be King, his backlist has been lengthy, including the blockbuster IT as director Andy Muschietti returning for the sequel, THE DARK TOWER series landing on Amazon and the upcoming Hulu series CASTLE ROCK. Mike Flanagan recently signed on to direct Doctor Sleep, King's sequel to The Shining.

Long and King are no stranger when it comes to working together. Long was an executive producer on MR. MERCEDES, the adaptation of the bestselling novel that landed on Audience Network. Long left after an 18-year run as programming chief at Audience to form Cedar Park with Ayer. Cedar Park is the studio attached to THE BONE CHURCH. Ayer just directed the Netflix fantasy sci-fi BRIGHT and before that the anti-hero medley that was SUICIDE SQUAD. Ayer is set to go on directing and writing BRIGHT 2.
Mad Dashiell out!