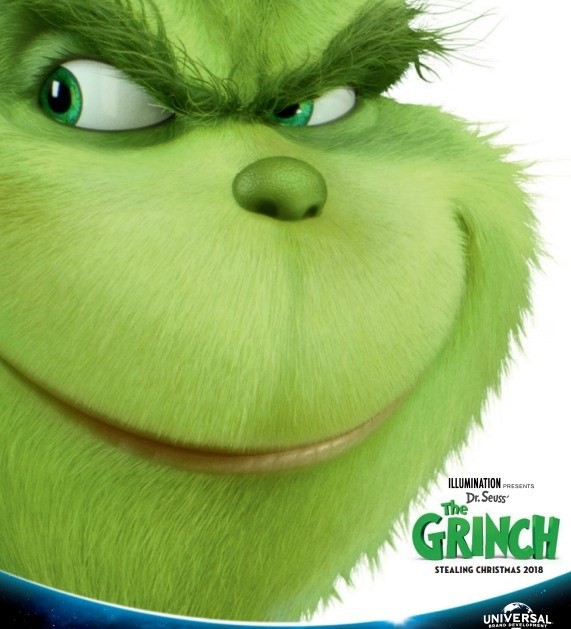 Good afternoon, geeks.
It's been almost two decades since the last incarnation of The Grinch, it's been long enough to bring a new one around for the next generation to enjoy. The 2000 version with Jim Carrey got a lot of hate, but there also many who hold it close to their hearts in nostalgia. I grew up enjoying both the original 60s and the 2000 version, so I'm open to a new version.
Benedict Cumberbatch (DR. STRANGE) is taking on the role of the Grinch himself in the new film. I'm trying to imagine his voice coming out of that green curly mouth, but I'm having difficulty with that because Cumberbatch's voice seems almost too suave for that role.
The more recent Dr. Seuss CG flicks have been uhh, hmm…. bad to okay. THE LORAX had a lot of potential (with SOME good parts), but just didn't deliver, and HORTON HEARS A WHO was just okay. Maybe this new THE GRINCH movie will blindside us with something at the very least "good". I'm ever the optimist when it comes to just finding good writers.
There are four writers on this project, and I feel the most promising one is Raymond S. Persei, who is known for WRECK-IT-RALPH, and ZOOTOPIA. Persei also wrote a very interesting looking four minute animated short called GHOST OF STEPHEN FOSTER which I will definitely be checking out later. Other writers on board are Michael LeSieur (YOU, ME AND DUPREE, KEEPING UP WITH THE JONESES), Cinco Paul (THE LORAX, DESPICABLE ME), and Ken Daurio (HORTON HEARS A WHO, THE LORAX).
Yeesh, there are also two directors: Peter Candeland (this is his first time directing a full length feature, he's usually a part of animation department in movies such as BALTO and TANK GIRL), Yarrow Cheney (THE SECRET LIFE OF PETS). Additionally, there is one co-director: Matthew O'Callaghan ( this person too is directing a full-length film for the first time, he previously directed the TV series LIFE WITH LOUIE--that takes me back).
I say "yeesh" because between all of the writers and directors, it could be way too many cooks in the kitchen.
THE GRINCH is released ..."Holiday" 2018.
~Big Eyes