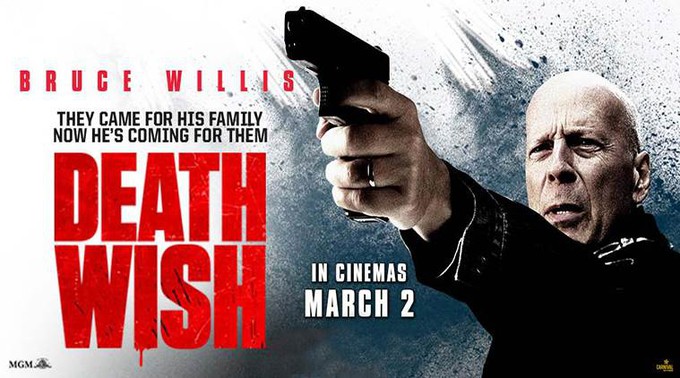 "A mild-mannered father is transformed into a killing machine after his family is torn apart by a violent act." Killer.
Afternoon, geeks. Big Eyes here!
Got a fantastic trailer for new movie coming from Eli Roth, DEATH WISH, starring Bruce Willis! I wasn't following this movie before, I got pretty pumped up on this movie seeing their grindhouse trailer! After, though, I watched a regular trailer for the film. I was pretty disappointed that the movie isn't actually full-on a grindhouse style flick. This trailer I have to share today is pretty awesome though, definitely worth checking out!
Warning: you will see some BRAINS!!!
The original DEATH WISH film was a classic B movie starring Charles Bronson in 1974.
In the original, basically his wife and daughter were raped and murdered so he became a vigilante on the streets of New York. The remake is looking pretty loyal to the original story. Will it be just as good or better? Did we really need a remake of this movie?
Bruce Willis may be getting old, but he just keeps on bringing the action as much as ever!
~Big Eyes