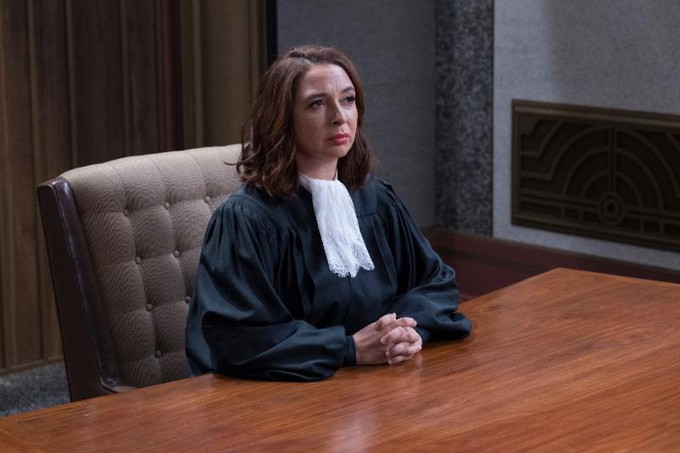 NBC says of "Somewhere Else":
Michael tries to pull a rabbit out of a hat.
The CW says of "All For Nothing":
Oliver continues his battle with Cayden James. Dinah and Oliver have a major disagreement that endangers the life of one of their own.
Premiering or returning tonight:
Impractical Jokers (Tru) Feb. 1
Swamp People (History) Feb. 1
Talk Show Game Show (Tru) Feb. 1
Thursday Night Darts (BBCA) Feb. 1
That 0.4 is NOT an all-time low for "Arrow," which hit a 0.3 in November.
Thursdays, Dec. 14, 2017-Jan. 25, 2018
(18-49 finals; repeats in grey; prior weeks in parentheses)
2.3 (2.3) (---) (---) (---) (---) (---) Grey's Anatomy
1.3 (1.2) (---) (---) (---) (---) (---) Scandal
1.2 (2.9) (3.1) (3.1) (1.5) (1.3) (2.6) Big Bang Theory
1.2 (1.1) (1.1) (1.2) (---) (---) (---) The Four
1.2 (1.0) (1.1) (1.1) (0.5) (---) (---) Superstore
1.1 (1.0) (0.9) (1.1) (0.4) (---) (---) Chicago Fire
1.1 (1.0) (1.0) (1.0) (---) (---) (---) The Good Place
1.1 (2.4) (2.6) (2.6) (1.4) (1.8) (2.0) Young Sheldon
1.0 (1.0) (---) (---) (---) (---) (---) How To/Murder
0.7 (---) (---) (---) (---) (---) (---) MVP
0.7 (0.6) (0.7) (1.0) (0.6) (0.7) (0.7) NBA Basketball
0.7 (1.0) (1.1) (1.1) (0.8) (1.0) (1.0) SWAT
0.6 (0.6) (---) (0.2) (---) (0.2) (---) Supernatural
0.6 (1.3) (1.1) (1.4) (0.4) (---) (---) Will & Grace
0.5 (0.6) (0.6) (0.6) (0.4) (0.5) (---) Great News
0.5 (---) (---) (---) (---) (---) (---) RuPaul's All Stars
0.4 (0.5) (---) (0.2) (---) (0.1) (---) Arrow
0.4 (0.3) (0.3) (0.3) (---) (---) (---) Betrayed
0.4 (---) (---) (---) (---) (---) (---) College Basketball
0.4 (0.3) (0.3) (0.3) (---) (---) (0.3) Hannity
0.4 (0.3) (0.3) (0.3) (---) (0.2) (0.3) House Hunters Intl
0.4 (0.4) (0.5) (0.4) (0.2) (0.3) (0.4) Rachel Maddow
0.4 (0.4) (0.4) (0.4) (---) (---) (---) 60 Days In
0.4 (0.3) (0.3) (0.3) (---) (0.3) (0.3) Tucker Carlson
0.3 (0.3) (0.4) (0.3) (0.2) (0.3) (0.3) Beat Bobby Flay
0.3 (0.3) (0.3) (0.3) (---) (---) (---) Flip Or Flop
0.3 (0.3) (0.3) (0.3) (---) (0.3) (0.3) House Hunters
0.3 (0.3) (---) (---) (---) (---) (---) Ingraham Angle
0.3 (0.3) (0.3) (0.3) (---) (---) (---) Lawrence O'Donnell
0.3 (---) (---) (---) (---) (---) (---) Lip Sync Battle
0.3 (0.3) (0.3) (0.4) (0.3) (0.3) (0.3) Million $ Listing
0.3 (---) (---) (0.3) (---) (---) (0.3) Pardon/Interruption
0.3 (0.3) (0.3) (0.3) (0.3) (---) (---) Perfect Suspect
0.3 (---) (---) (---) (---) (---) (---) Wild N Out