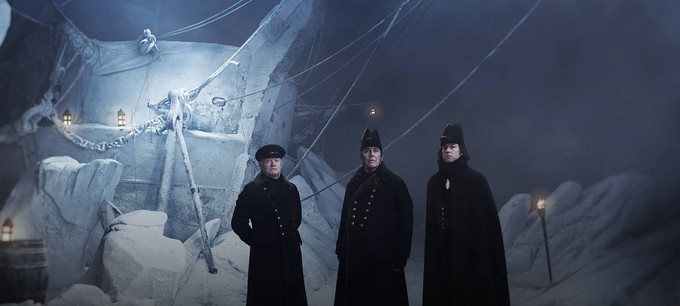 Hey, folks, Precious Roy here with a trailer for THE TERROR, a new series for AMC produced by Ridley Scott.
THE TERROR tells the story of a British Royal Navy expedition of two ships looking for an ocean course to China through the Northwest Passage of the Arctic. It stars Ciarán Hinds (GAME OF THRONES), Jared Harris (THE EXPANSE), and Nive Nielsen. The expedition runs into many unforeseen setbacks, such as freezing into the ice with provisions running out, and a fantastically huge polar bear happy to encounter warm meat. Leadership problems, continued setbacks, and the stalking polar bear threatens to destroy the entire crew. As Harris puts it in the trailer, "This place wants us dead."
I confess that I'm not sure how such a bleak tale of destruction, arrogance, and murder can work as a series, but AMC is the network that has made 8 seasons of a zombie apocalypse successful, so they get the benefit of the doubt, here. THE TERROR premieres on Monday, March 26 at 9 p.m. Eastern time.
Precious Roy OUT!